April 7, 2012
2012 Season - Carthage stops Vikings attempt to sweep series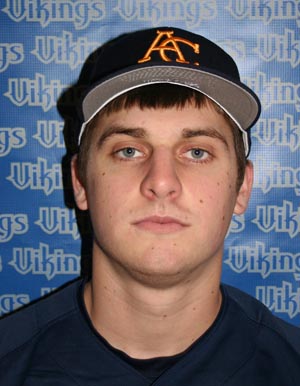 Freshman Brandon Jasper had two hits, drove in two runs, walked twice and stole a pair of bases to lead Augustana's offense in a 10-7 loss at Carthage on Saturday, April 7.
KENOSHA, Wisconsin - Despite being the recipient of five Carthage errors, Augustana was unable to capitalize enough and fell to the Red Men 10-7 in the final game of a three game set in Kenosha, Wisconsin on Saturday, April 7. The Vikings swept a double header on Friday, April 8 and were trying for a three game sweep but a pair of four run innings by Carthage proved to be the difference.
The Red Men jumped on Augustana starter Jared McIntosh (Davenport Assumption HS, Davenport, Iowa) for four runs in the bottom of the first inning. Kyle Frye and Zack Kozlowski each hit two run home runs to spark the Carthage attack.
Augustana countered with two runs each in the second and third innings to tie the score. In the second junior Grant Stewart (Sterling HS, Sterling, Ill.) led off and was hit by a pitch. He scored on a triple by junior Kurt Schmidt (Grayslake Central HS, Grayslake, Ill.). Schmidt eventually scored on a sacrifice fly to center by Joe Cecchi (Romeoville HS, Romeoville, Ill.).
The Vikings used two Carthage errors to plate a pair of unearned runs in the third to tie the game. Freshman Brandon Jasper (DeWitt Central HS, DeWitt, Iowa) singled to right center to score senior Mike Barker (Grandview HS, Centennial, Colo.) and junior Jeremy Juhl (Glenbard East HS, Lombard, Ill.).
Carthage put four more runs on the board in the bottom of the fourth to make it 8-4 and chase McIntosh from the game. He was relieved by junior George Dexter (Bettendorf HS, Bettendorf, Iowa). Dexter worked three innings and gave up just two hits and one run to keep the Vikings close.
Augustana scored a single run in the fifth and two in the eighth but it was not enough as the Vikings dropped to 15-8 overall and 3-5 in the College Conference of Illinois & Wisconsin. Carthage is now 7-11 and 2-6.
Jasper had two hits, two runs-batted-in and drew a pair of walks. He also stole two bases to lead the offense. Juhl and Schmidt had two hits also.
The Vikings will play at North Central on Wednesday, April 11.