April 7, 2012
2011-12 Season - Voiles to play in elite NBA Portsmouth Invitational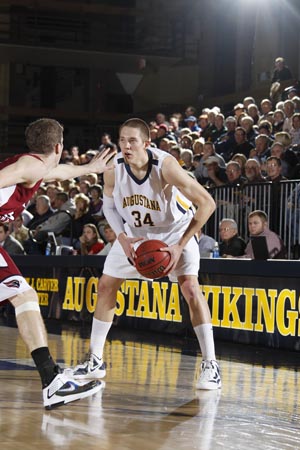 Viking senior Bryant Voiles has been invited to the NBA's prestigious Portsmouth Invitational, which will run from April 11-14 in Portsmouth, Virginia. He is one of just three NCAA Division III players in the history of the event to be asked to participate.
PORTSMOUTH, Va.-Augustana senior forward Bryant Voiles has been selected to play in the 60th annual Portsmouth Invitational Tournament. The eight-team tournament, which runs from Wednesday, April 11 to Saturday, April 14, offers 64 of the best seniors in college basketball an opportunity to showcase their skills in front of representatives from all 30 National Basketball Association teams.
Voiles is one of just two NCAA Division III players-along with David Michaels of Whitman-competing in this year's P.I.T. They are just the second and third Division III invitees to the tournament over the last decade. Some familiar names playing in this year's event include Jordan Taylor of Wisconsin, Matt Gatens of Iowa, Syracuse's Scoop Jardine, Truck Bryant of West Virginia and Georgetown's Henry Sims. Voiles will be playing with Sims on the Portsmouth Sports Club team. Another invitee is Ralph Sampson III of Minnesota, whose father, former University of Virginia All-American and nine-year NBA veteran Ralph Sampson, will be the featured speaker at the tournament's celebrity luncheon.
Augustana head coach Grey Giovanine expressed excitement for his 6' 9", 209-pound forward from Byron, Illinois. "Bryant is the best pro prospect I have seen from the Division III level in my 13 seasons coaching at Augustana. The combination of his size, skill level, and work ethic, will give him a chance to have a great post collegiate playing career. This invitation to the prestigious P.I.T. validates that belief and is a great credit to Bryant and tremendous exposure for our program and Augustana College. He will be competing with the best college senior prospects in the nation, and I expect him to represent us well."
A two-time team MVP and second team All-CCIW selection, Voiles led the Vikings in scoring and rebounding this season with averages of 14.2 points and 7.2 boards per contest. His top game was a 38-point, 10-rebound performance at St. Ambrose and he had 25 points and six steals in an exhibition contest at Division I Valparaiso. He was the Vikings' top free throw shooter at .830 (117 of 141) and tied for the team lead with 36 three-point field goals. He finished his career at Augustana with 881 points and 460 rebounds, ranking 36th and 25th, respectively, on the school's career lists. His 112 career three-point field goals are 10th-best in school history, as are his 48 blocked shots. He ranks 16th in career three-point percentage (.385), free throws made (237) and free throws attempted (315) and is in the top 50 in games played (84), free throw percentage (.752) and assists (131) as well.
In addition to scouts and general managers from the NBA, Portsmouth also attracts representatives from numerous international professional leagues. Six players who competed for Giovanine at Augustana have gone on to professional playing careers, including four who are still active overseas. Kyle Nelson is playing in Latvia, Dain Swetalla in Portugal and Jay McAdams-Thornton and Bill Goehrke in Germany. Also, Viking All-American Drew Carstens competed domestically in the International Basketball League and current Augustana assistant coach Rick Harrigan-an All-American and CCIW Most Outstanding Player in 2006-played professionally in Ireland and enjoyed a stint as an opponent for the Harlem Globetrotters.