April 6, 2012
2012 Season - Jones takes down another school record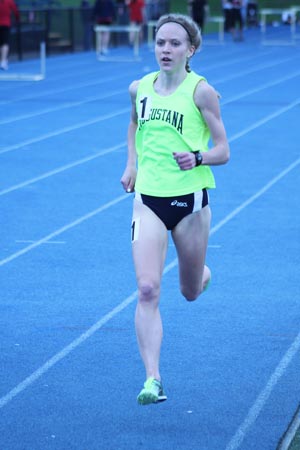 Junior Sarahbeth Jones broke Kim Lehman's 29-year old record in the 5000 when she ran 17:24.27 in winning the Wartburg Select on Friday, April 6. That is the second school record Jones has erased since the outdoor season started. She took down Susan Paige's 1998 mark in the 3000 with a time of 9:58.95 back on March 24.
WAVERLY, Iowa - Junior Sarahbeth Jones (Warren Township HS, Wadsworth, Ill.) continued her assault on the Augustana women's track & field record books with a scintillating performance on Friday, April 6 at the Wartburg Select in Waverly, Iowa. She won the 5000 in a time of 17:24.27 and in the process erased a 29 year old school record from the Vikings' books.
Jones absolutely romped to victory, winning by 31 seconds over second place Emma Lee of St. Olaf, who recorded a time of 17:55.93. She shaved four seconds off the previous Augustana school record that had been held by Kim Lehman with a time of 17:28.53 in 1983. Earlier this year, on March 24, Jones established a new school record in the 3000 with a time of 9:58.95 at the Viking Open. That took down Susan Paige's 1998 mark of 10:02.85.
Jones' performance on Friday helped Augustana finish fifth in the team standings with 64 points. Wartburg won the nine-team event with 289.70 points while Wisconsin-LaCrosse was a distant second with 137. Wisconsin-Eau Claire took third at 132.20 and St. Olaf placed fourth with 70.20. Augustana's 64 points ended up just in front of Wisconsin-Platteville's sixth place total of 61.40. Grandview (54), Dubuque (24.5) and North Iowa College (18) rounded out the field.
Joining Jones in the winner's circle was sophomore Taelar Hillyer (Alleman Catholic HS, Rock Island, Ill.). Hillyer claimed first in the pole vault with a leap of 10' 7".
Sophomore Kierra Smith (Creston HS, Creston, Iowa) placed second in the 100 hurdles with a time of :15.46 and took third in the 400 hurdles in 1:04.99. Her time in the 400 hurdles is the seventh best in Augustana history.
Senior Catherine Foreman (St. Joseph-Ogden HS, St. Joseph, Ill.) placed second in the javelin with a toss of 107' 0".
Senior Sarah Johnson (Grayslake North HS, Lake Villa, Ill.) finished third in the 3000 steeplechase with a time of 12:05.54. The 3200 relay team of freshman Jessica Bacon (Rock Island HS, Rock Island, Ill.), sophomore Kate Benge (Pleasant Valley HS, Bettendorf, Iowa), junior Jennifer Prazak (Naperville North HS, Naperville, Ill.) and junior Annie Heifner (Oregon HS, Oregon, Wis.) placed fourth in 9:44.99.
Sophomore Johanna Schnitzler (Downers Grove South HS, Woodridge, Ill.) took sixth in the 100 hurdles in :16.49. Junior Jordan Mauerman (Albany HS, Albany, Wis.) was sixth in the javelin with a toss of 97' 2". Freshman Laura Polizzi (Crystal Lake South HS, Crystal Lake, Ill.) finished seventh in the triple jump (33' 9") and senior Morgan Gale (Oregon HS, Oregon, Ill.) was seventh in the pole vault at 8' 7". The 400 relay team of Gale, Smith, junior Katie Dinkel (Maharishi HS, Fairfield, Iowa) and Schnitzler placed eighth in :53.97.
Augustana, which is ranked sixth in the latest NCAA Division III dual meet power rankings, will compete on Saturday, April 14 at the Norse Relays in Decorah, Iowa.