April 6, 2012
2012 Season - Second ranked Vikings fourth at Wartburg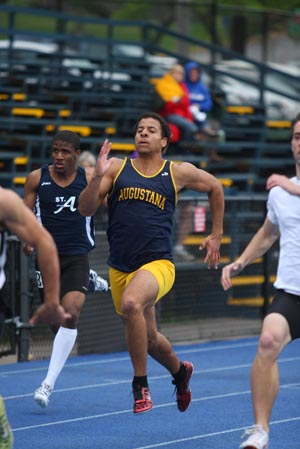 Junior Greg Patton placed second in the 400 with a time of :49.67 and ran a leg on the winning 1600 relay and on the second place 400 relay at the Wartburg Select on Friday, April 6.
WAVERLY, Iowa - Augustana, currently ranked second in NCAA Division III, won five events and placed fourth in the team standings at the eight-team Wartburg Select Invitational on Friday, April 6. The meet was held under windy conditions at Ralston-Hoover Stadium in Waverly, Iowa. Not only did veteran head coach Paul Olsen's team win five events but the Vikings also had five performances that moved into the "Top 10" list in NCAA Division III for the year.
Wisconsin-Eau Claire won the meet with 178 points while Wartburg was second with 175.5 and Wisconsin-LaCrosse took third with 132. Augustana scored 131 in fourth place, far in front of Wisconsin-Platteville's fifth place total of 107.5. Grandview (41), Dubuque (24.5) and Chase Madison (10) rounded out the field.
Freshman David Voland (Batavia HS, Batavia, Ill.) recorded the third best time in Augustana history when he won the 400 intermediate hurdles in :52.68. That is also the second fastest time in NCAA Division III at this time of the season. He also ran the second leg on the winning 1600 relay team that clocked a time of 3:14.46. He was joined on the 1600 relay by senior Greg Davis (Carlinville HS, Carlinville, Ill.), junior Greg Patton (Bloomington HS, Bloomington, Ill.) and junior Alex Rindone (Marmion Academy, Geneva, Ill.). The 1600 team of Davis, Voland, Patton and Rindone owns the second fastest time in the country and that is the eighth best in Viking history.
Davis finished second in both the 110 high hurdles (:14.92) and the 400 intermediate hurdles (:53.91). He is seventh in NCAA Division III in the 110 high hurdles and ninth in the 400 intermediates. Rindone placed second in the 100 in :10.81 and Patton took second in the 400 in :49.67.
The 400 relay of freshman David Devore (Midland HS, Midland, Mich.), Patton, junior Floyd Mays (Mooseheart HS, Justice, Ill.) and sophomore Jay Graffagna (Geneva HS, LaFox, Ill.) clocked a time of :42.75 to place second. Graffagna won the 200 in :22.67.
Other winners for Augustana included junior Justin Smith (Fenton HS, Bensenville, Ill.) in the 1500 and freshman Torre Harrell (Bloomington HS, Bloomington, Ill.) in the long jump. Smith ran 3:54.66 and that moves him into ninth place on the national list for this year while Harrell recorded a leap of 23' 2".
Senior Matt Bowman (Geneva HS, Elburn, Ill.) was fourth in the 1500 with a time of 3:58.57 with freshman Nick Gornick (York HS, Elmhurst, Ill.) taking eighth in 3:59.82.
Sophomore Edgar Valle (Kaneland HS, Elburn, Ill.) placed fifth in the 800 in 1:57.16 and sophomore Alex Stockwell (Glenbard West HS, Glen Ellyn, Ill.) was fifth in the 3000 steeplechase in 9:58.12. Mays finished seventh in the 100 in :11.28 and senior Marty King (Oswego HS, Oswego, Ill.) took eighth in the 400 intermediate hurdles with a time of :56.56.
Freshman Kevin Gordy (Lincoln-Way West HS, Mokena, Ill.) was fifth in both the long (21' 0") and triple jump (39' 1") events. Junior Mike Tovar (Mooseheart HS, Chicago, Ill.) took sixth in the long jump with a leap of 20' 7". Senior Phil Christensen (Kaneland HS, Maple Park, Ill.) was sixth in the discus with a toss of 154' 0". Junior Luke Anderson (Lemont HS, Lemont, Ill.) was sixth in the javelin with a throw of 158' 0". Senior Brian Benning (Winnebago HS, Winnebago, Ill.) placed eighth in the hammer at 167'0" and freshman Alec Seymour (Riverton HS, Riverton, Ill.) was eighth in the javelin with a mark of 155' 0".
Augustana will compete in the Western Illinois Invitational in Macomb, Illinois on Friday, April 13 and Saturday, April 14.