April 6, 2012
2012 Season - Pitching leads way in sweep at Carthage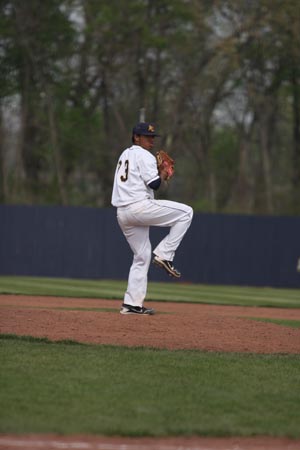 Freshman Seth Davis pitched six scoreless and hitless innings in Augustana's 9-3 win over Carthage in the second game of a double header sweep of the Red Men.
KENOSHA, Wisconsin - For the second consecutive year Augustana swept a College Conference of Illinois & Wisconsin double header from Carthage. The Vikings picked up a pair from the Red Men on Friday, April 6 in Kenosha, Wisconsin, winning by scores of 2-1 and 9-3.
With the double victory, Augustana, ranked 37th in the latest NCAA Division III national poll, pushed its record to 15-7 overall and 3-4 in the CCIW. The two teams will play again on Saturday, April 7 in a single, nine-inning contest at the Carthage Field.
Two outstanding pitching performances keyed the sweep of the Red Men. Senior Mike Trotta (Niles Notre Dame HS, Chicago, Ill.) started game one and worked eight innings and gave up just one hit as he pushed his record to 5-0. Freshman Seth Davis (J.K. Mullen HS, Aurora, Colo.) worked six hitless and scoreless innings in relief in game two and picked up the victory to move to 1-1 on the year.
GAME 1: Augustana 2, Carthage 1
Trotta started and went eight innings, giving up seven hits and walking four but he used six strikeouts and got Carthage to strand eight base runners en route to the 2-1 victory. He gave way to senior Josiah Martin (Canton HS, Canton, Ill.) in the ninth and Martin faced the minimum three batters and posted a pair of strikeouts for his third save of the year.
The game was scoreless heading into the fifth when the Vikings scratched out a run. Junior second baseman Kurt Schmidt (Grayslake Central HS, Grayslake, Ill.) led off with a single to right field. He moved to second on a sacrifice bunt from junior Jared McIntosh (Davenport Assumption HS, Davenport, Iowa). Junior Joe Cecchi (Romeoville HS, Romeoville, Ill.) lined a single into center field to plate Schmidt.
Carthage battered Trotta for five hits in the fifth inning but could manage only one run.
The Vikings scored the winning run in the top of the eighth. Cecchi singled up the middle to lead things off and went to second on a sacrifice bunt from junior Jim Sandberg (J.K. Mullen HS, Littleton, Colo.). Cecchi went to third on a wild pitch and scored an unearned run when sophomore Jacob VanDuyne (Wilmington HS, Wilmington, Ill.) reached on an error with two outs.
Augustana only had five hits in the game with Schmidt and Cecchi getting two each.
GAME 2: Augsutana 9, Carthage 3
The Vikings roughed up three Red Men pitchers for 13 hits and nine runs en route to a 9-3 victory. However, the big story was the relief performance from Davis. He took over for senior starter Ryan Thompson (Wheaton North HS, Wheaton, Ill.) to start the fourth inning. Augustana led 8-3 when Davis entered the game and he did not allow a run or a hit for the next six innings. He struck out three and walked one as he faced the minimum of 18 batters. He only allowed one batter to reach and that was when Drew Bailey walked in the ninth. Davis promptly picked Bailey off first and then got pinch hitter Mike Wasche to fly out to end the game.
Augustana jumped on Carthage starter Danny Dahm early, scoring three runs in the top of the first thanks to three runs and helped out by one of four Red Men errors in the game. VanDuyne led off by reaching on an error and junior Jeremy Juhl (Glenbard East HS, Lombard, Ill.) singled him to third. Senior Mike Barker (Grandview HS, Centennial, Colo, - now resides in Marina del Ray. Calif.) singled to right to score Van Duyne and move Juhl to third. Barker went to second on a wild pitch and Juhl stayed at third. Schmidt lifted a fly to center field that allowed Juhl to score with Barker moving to third. Barker would score the third run of the inning on a wild pitch.
Carthage answered with two runs off Thompson in the bottom the first. Neither team scored in the second and the Vikings plated two in the third to make it 5-2. Juhl walked to lead off and Barker singled him to second but Juhl moved to third on an outfield error. A walk to junior Grant Stewart (Sterling HS, Sterling, Ill.) loaded the bases. Schmidt's sacrifice fly brought in Juhl and Cecchi's two out single drove in Barker.
The Red Men scored a run in the bottom of the third to close the gap to 5-3 but Augustana picked up three more to make it 8-3. Freshman Jacques Camalick (Hinsdale Central HS, Burr Ridge, Ill.), getting his first varsity start, singled to center and went to second on a wild pitch. Van Duyne moved him to third with a sacrifice bunt and Juhl singled him home. Barker reached on an error with Juhl going to third. Stewart grounded into a force play but Juhl scored. Schmidt singled Stewart to third and freshman Brandon Jasper (DeWitt Central HS, DeWitt, Iowa), pinch hitting for McIntosh, singled to score Stewart.
Davis replaced Thompson on the mound to start the bottom of the fourth and he retired 16 batters in a row before Bailey walked.
Juhl, Barker, Stewart and Camalick each had two hits for the Vikings.