April 5, 2012
2012 Season - Men's Track & Field ranked second in NCAA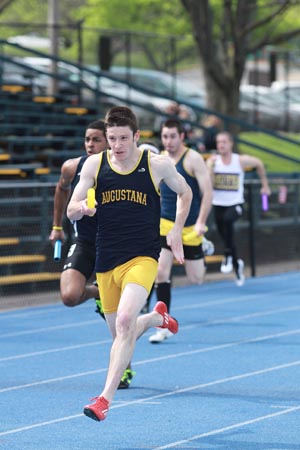 Alex Rindone anchors Augustana's 400 meter relay team that has recorded one of the fastest times in NCAA Division III this season at :41.66. The Vikings are currently ranked second in the NCAA Division III power rankings.
High quality performances at the beginning of the season have keyed the Augustana men's track and field team's success. The Vikings are currently second in the NCAA Division III national dual meet rankings, which were released today. After finishing fifth in the final indoor rankings, the Vikings have not missed a beat in transitioning to the outdoor season. Augustana has accumulated 189.72 points in the first rankings.
This poll, conducted by the U.S. Track & Field and Cross Country Coaches Association, quantifies the depth of each team. The team's total score is the sum of all points earned in each event. Two individual athletes are scored per event, as well as one relay team. The points are based on the best marks of an event in the current season, with the faster times and farther distances worth more.
Currently, Wabash is the top ranked team with 194.65 points. Augustana is close behind with 189.72, while Claremont McKenna-Harvey Mudd-Scripps is ranked third with 176.77 points. Redlands is fourth with 170.87 points, just ahead of North Central's 170.73 points. Lynchburg is ranked sixth with 170.69, while Bates (166.05), Salisbury (164.55), Pacific (157.90) and Emory (152.26) round out the top 10.
The Vikings opened with a second place finish in the Viking Open on Saturday, March 24 at Paul V. Olsen Track, finishing just 18.5 points behind UW-Whitewater in the 10-team meet. This past weekend head coach Paul Olsen's team won the team title at the Viking Olympics, also hosted at Augustana. The hosts easily outdistanced second place Wartburg, scoring 373 points to Wartburg's 161 in the six-team field.
Augustana will be competing Friday, April 6 at the Wartburg Select in Waverly, Iowa. That meet is scheduled to begin at noon.
2012 NCAA DIVISION III OUTDOOR DUAL MEET POWER RANKINGS
Sponsored by the USTFCCA
As of 04/05/2012
POLL #1
| | | | |
| --- | --- | --- | --- |
| RANK | SCHOOL | REGION | POINTS |
| 1. | Wabash | Great Lakes | 194.65 |
| 2. | AUGUSTANA | Midwest | 189.72 |
| 3. | Claremont McKenna-Harvey Mudd-Scripps | West | 176.77 |
| 4 | Redlands | West | 170.87 |
| 5. | North Central | Midwest | 170.73 |
| 6. | Lynchburg | South | 170.69 |
| 7. | Bates | New England | 166.05 |
| 8. | Salisbury | Mideast | 164.55 |
| 9. | Pacific (Oregon) | West | 157.90 |
| 10. | Emory | South | 152.26 |