April 4, 2012
2011-12 Season - Vikings come back to beat Hanover 8-6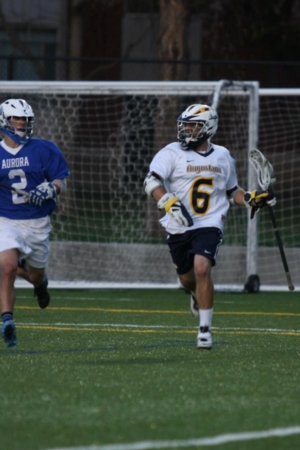 Freshman midfielder J.G. Saunders dished out a pair of assists, collected five ground balls and won nine of 13 faceoffs Wednesday as Augustana came from behind to defeat Hanover 8-6 in Indianapolis, Indiana.
INDIANAPOLIS, Ind.-Augustana outscored Hanover 6-1 over the final 32 minutes Wednesday to claim an 8-6 victory in Indianapolis, Indiana. With the win, the Vikings improve to 7-4 on the year, while the Panthers fall to 4-7.
Trailing 5-2 late in the first half, Augustana freshman Colin Haley (St. Charles East HS, St. Charles, Ill.) scored an unassisted goal with 1:14 on the clock to cut the deficit to 5-3 at intermission.
Freshman Jesse Nagelberg (St. Charles East HS, St. Charles, Ill.) scored twice in the first two minutes of the second half to tie the contest at 5-5. Freshman J.G. Saunders (The Calvert School, Aquasco, Md.) and Ryan Nakamoto (Naperville Central HS, Naperville, Ill.) assisted on those two scores. Saunders recorded another assist at the 4:48 mark of the third when Brad Anderson (Arrowhead HS, Hartland, Wis.) gave the Vikings their first lead with his fourth goal of the season.
Haley scored his 11th goal of the year early in the fourth to extend the advantage to 7-5. It stayed that way until the Panthers' Nick Hermes found the net with 2:48 left. However, Anderson answered with his fifth goal of the year with 1:20 left to lock up the victory.
Hanover jumped out to a 3-0 lead before Nagelberg scored off a John Pagliarello (Heritage HS, Littleton, Colo.) assist with 1:36 remaining in the first quarter.
Nagelberg finished the day with four goals, giving him a team-high 30 on the year. Haley and Anderson each added a pair of goals. In addition to his two assists, Saunders won nine of 13 faceoffs for the Vikings and collected five ground balls. Freshman Tim Fennelly (Littleton HS, Centennial, Colo.) led Augustana with six ground balls.
Freshman goalkeeper Cody Burgdorff (Peak to Peak HS, Lafayette, Colo.) stopped 10 Panther shots to improve to 6-4 this season.
Augustana, tied for third in the nation in scoring defense, had advantages of 30-25 in shot attempts and 43-28 in ground balls. The Vikings won 10 of 16 faceoffs and committed 24 turnovers to 27 for Hanover.
Coach Kyle Hart's team travels to Alma, Michigan for a 1:00 p.m. contest with the Alma Scots on Sunday, April 15.