April 3, 2012
2012 Season - Vikings drop twin bill to North Central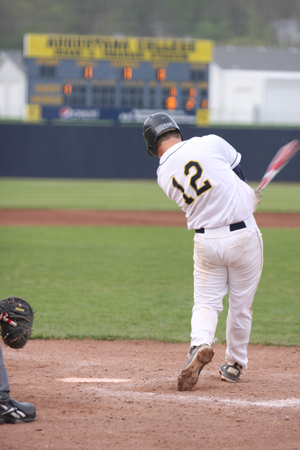 Junior first baseman Grant Stewart had two hits in each game Tuesday, but the Vikings fell in both ends of a doubleheader with North Central, losing 9-8 in 11 innings in the opener and 5-4 in the nightcap.
MOLINE, Ill.-Despite banging out a total of 26 hits, Augustana came up on the short end of a pair of one-run games in Tuesday's doubleheader with North Central. The Vikings dropped the opener 9-8 in 11 innings and lost the nightcap 5-4 at Swanson Stadium/Brunner Field. Augustana falls to 13-7 on the year and 1-4 in the CCIW while the Cardinals improve to 13-5 overall and 4-1 in the league.
GAME ONE-NORTH CENTRAL 9, AUGUSTANA 8 (11)
After North Central got to Viking starter Ben Heaton (Bloomington Central Catholic HS, Heyworth, Ill.) for a run in the top of the first, Augustana responded with three in the bottom of the frame. Kurt Schmidt (Grayslake Central HS, Grayslake, Ill.) got a one-out single to left and Mike Barker (Centennial Colo. Grandview HS, Marina del Rey, Cal.) followed with a walk. The pair worked a double steal to move to second and third, then Schmidt scored and Barker moved to third on a wild pitch by North Central starter T.J. Hecimovich. The hosts added runs on a Jeremy Juhl (Glenbard East HS, Lombard, Ill.) RBI single and Grant Stewart's (Sterling HS, Sterling, Ill.) run-scoring groundout to take a 3-1 lead after one.
The Cardinals scored a run in the third and knocked Heaton out with three in the top of the fourth. They extended the lead to 6-3 with a single run in the top of the fifth.
Jacob VanDuyne (Wilmington HS, Wilmington, Ill.) and Schmidt started the Viking fifth with back-to-back singles and moved to second and third on a Barker sacrifice. Jared McIntosh followed with a grounder to first, but the Cardinals botched the ensuing rundown, with VanDuyne scoring, Schmidt advancing to third and McIntosh winding up at second. Juhl drove in a run with a sacrifice fly to right and Stewart lined an RBI single to tie the game at 6-6. Joe Cecchi followed with an RBI single to right and the Vikings led again, 7-6.
The lead didn't last long however, as North Central touched Viking bullpen ace Josiah Martin (Canton HS, Canton, Ill.) for a pair of runs in the top of the sixth to make it 8-7 Cardinals.
In the bottom of the eighth, VanDuyne got a one-out single to left. Barker followed with a single to left center and when Cardinal left fielder Steve Hlavac juggled the ball, VanDuyne came all the way around with the tying run.
It stayed that way until the top of the 11th, when North Central got to reliever Rick Erickson (Lake Zurich HS, Hawthorn Woods, Ill.) for an unearned run to take a 9-8 lead. Stewart got a two-out single in the bottom of the frame, but Anthony Concialdi (Fremd HS, Barrington, Ill.), running for Stewart, was left stranded at first.
Erickson, who allowed just that single, unearned run in four innings of work, was the tough-luck loser, falling to 1-1. He allowed five hits, walked no one and fanned six. VanDuyne went 4-for-6 with a pair of runs scored. Schmidt had two hits and two runs scored and Juhl and Stewart each had two hits and two RBI.
GAME TWO-NORTH CENTRAL 5, AUGUSTANA 4
In the nightcap, North Central took advantage of some early wildness by freshman starter Kevin Hodgman (Neuqua Valley HS, Naperville, Ill.) and some shaky Viking defense to jump in front 3-0. The Cardinals used a single, two walks and an Augustana error to score one in the first. Hodgman induced a double play grounder from Zac Pacanowski to avoid further damage. In the third, the visitors parlayed two singles, an error, a hit batter and a wild pitch into two more runs, but again Hodgman ended the inning with a double play.
Augustana got on the board with two runs in the fourth. Jim Sandberg (J.K. Mullen HS, Littleton, Colo.) delivered a two-out double to right. The next batter, Kevin Serna (Rolling Meadows HS, Arlington Heights, Ill.) did the same and came around to score on VanDuyne's single to center.
Hodgman had settled down and retired the Cardinals without incident in the fourth and fifth, but ran into trouble in the sixth. A leadoff walk followed by a single knocked him from the game and when Alex Khoury lined a double to left off Martin, North Central had extended the lead back to 5-2.
Three walks, an RBI single by Juhl and an RBI fielder's choice by McIntosh in the Viking seventh cut the deficit to 5-4, but that's the way it would end. Much like the first game, Stewart came up with a two-out single in the final frame, but Concialdi was left stranded after pinch-running.
Barker went 3-for-4 in the nightcap, while Stewart, Juhl and Sandberg each had two hits. Hodgman battled his way through five-plus innings, allowing four hits. Just three of his five runs allowed were earned. He walked five and fanned five. Another freshman hurler, Seth Davis (J.K. Mullen HS, Aurora, Colo.), was impressive in relief, throwing two scoreless innings while fanning three.
Next up for coach Greg Wallace's club is a three-game set this weekend against Carthage in Kenosha, Wisconsin. The teams play a 1:00 p.m. doubleheader on Friday, April 6 and a single game at noon on Saturday, April 7.