April 3, 2012
2011-12 Season - Men's lacrosse third in NCAA in scoring defense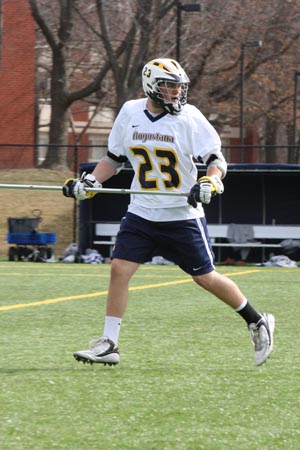 Brian Donohoue is part of an Augustana defense that currently ranks third in NCAA Division III in scoring defense, allowin just 4.50 goals per game.
The third edition of the national lacrosse rankings has the Augustana men's lacrosse team ranked in the top 25 in two team categories as well as having one individual crack the top 25 in two categories. In their first season, the Vikings are continuing to rely on defense to drive their success.
The Vikings' have relied on their defense en route to posting a 6-4 record. Augustana is ranked third in the country in scoring defense, giving up an average of just 4.5 goals per game. Wesleyan (CT) leads the country in scoring defense with 4.43 goals allowed per game. The Vikings are also ranked 21st in scoring margin. On average, Augustana outscores their opponents by 5.2 goals per game. Salisbury continues to lead the nation in that category, with an average margin of 14.55 goals.
Freshman goalie Cody Burgdorff (Peak to Peak HS, Lafayette, Colo.) continues to have a great season, as he ranks tenth in the country in goals-against average and 20th in save percentage. His goals-against-average of 5.51 is slightly behind the national leader, Alex Taylor of Salisbury, who allows an average of 4.03 goals per game. Burgdorff's save percentage is .634, which means he stops just over 63% of the shots he faces. Grant Covington of Wesleyan (CT) leads the country in this category with a .758 average.
The Vikings next play Hanover on Wednesday, April 4 in Indianapolis, Indiana.