April 3, 2012
2011-12 Season - Vikings lead nation in scoring offense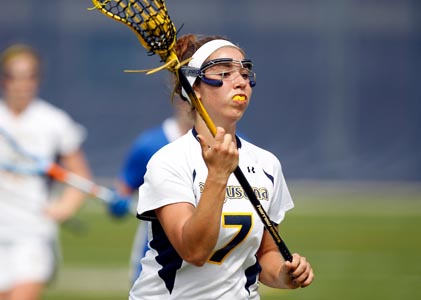 Freshman Christina Letmanski has been an integral part of a Viking offense that leads NCAA Division III in total points and scoring offense. She has scored 39 goals so far this season.
In the third edition of the national lacrosse rankings, the Augustana women's lacrosse team has stayed at the top of many offensive categories which has helped the Vikings off to an 11-3 start. The team is ranked first in points scored as well as scoring offense, second in caused turnovers, fifth in average scoring margin, and 21st in draw controls. These rankings came out on April 1, so they do not include the statistics from Augustana's 22-11 win over Puget Sound on April 2.
After 13 games, Augustana has scored 355 points, leading the nation. In addition, the team's scoring offense, which is the average amount of goals scored per game, is ranked first with 18.85 goals per game. With the win over Puget Sound, both of those numbers will have increased. Coach Sara Tisdale's team is second in caused turnovers with 15.62 per game, only trailing Utica, which averages 16.8. The Vikings outscore their opponents by an average of 10.23 goals per game, putting them fifth in the nation. Keuka leads the nation with a margin of 12.33 per game. Augustana is also ranked 21st in draw controls with 15.92.
Despite not counting the 10 goals she scored Monday night, freshman Hilary Kargl (Sacred Heart Academy, Louisville, Ky.) leads the nation in goals scored with 66. She is also ranked second in total points with 80, eighth in goals per game with 5.08 and 20th in points per game with 6.15. Jordan Alexander of Gordon leads the nation in points per game, averaging 7.38.
Freshman attackers Christina Letmanski (Glenbard West HS, Wheaton, Ill.) and Hannah Dickman (Stillwater Area HS, Stillwater, Minn.) are helping out on the offensive end. Both are tied for 16th in the nation with 58 points. Letmanski is ranked 25th in the nation in both goals and assists, having scored 39 goals and assisting on 19 others. Dickman is ranked 14th in assists, with 23, to go along with her 35 goals.
Freshman goalie Sarah Osier (Naperville Central HS, Naperville, Ill.) continues to anchor the Viking defense, ranking 13th in the country with a total of 102 saves. Linnea Bostrom of Puget Sound is first with 154 saves. Osier is also ranked near the top in goals-against average and save percentage. With a goals-against average of 8.85 per game, she is ranked 30th in the nation in that category. Osier is ranked 31st in the nation with a save percentage of 0.49. Molly Hogan of Keuka is best in the nation with a 0.622 save percentage.
Coach Sara Tisdale's squad is now idle until Friday April 13, when they take on Trine in Angola, Indiana at 5:00 p.m.