April 2, 2012
2011-12 Season - Kargl's 10 goals lead Vikings to win over UPS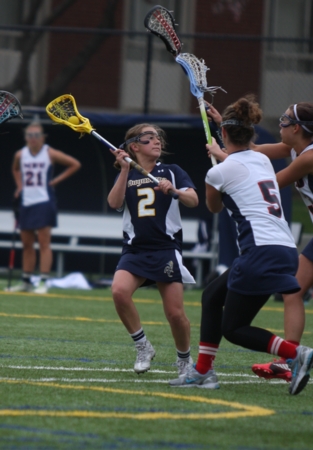 Freshman Hilary Kargl's 10 goals helped lead Augustana to a 22-11 win over Puget Sound in Naperville, Illinois Monday.
NAPERVILLE, Ill.-Freshman Hilary Kargl (Sacred Heart Academy, Louisville, Ky.) scored 10 goals to lead Augustana, the top scoring team in NCAA Division III, to a 22-11 win over Puget Sound Monday. It was the third straight game that the Vikings, now 11-3 on the year, have put 22 goals on the scoreboard.
Augustana jumped on the Loggers early, taking a 6-1 just over eight minutes in. Freshman Christina Letmanksi (Glenbard West HS, Wheaton, Ill.) gave the Vikings a 1-0 lead with her 40th goal of the season at the 28:51 mark of the first half. Kargl scored to make it 2-0 before Caroline Cook got Puget Sound on the board with her 28th goal of the season.
Augustana responded with four straight goals, including the second of the game each for Letmanksi and Kargl. However, the Loggers outscored the Vikings 7-3 over the last 20 minutes of the half to narrow Augustana's lead to 9-8 at intermission.
Freshman Kelly Stelzer (Wheaton Warrenville South HS, Wheaton, Ill.) and Cook traded goals in the first three and a half minutes of the second half, before Augustana scored 12 of the next 13 to put the game away. Kargl had half of those, including four in a row in a span of less than two minutes.
Kargl's 10 goals give her 76 on the season, making her the current all-division leader in the NCAA.
Letmanski had three goals in the contest, giving her 42 on the year. Stelzer and fellow freshmen Hannah Dickman (Stillwater Area HS, Stillwater, Minn.), Alex Palmisano (Wheaton Warrenville South HS, Wheaton, Ill.) and Allie Roehrenbeck (Columbus Academy, Gahanna, Ohio) each had two goals and freshman Kate Zisser (Kirkwood HS, St. Louis, Mo.) added another. Dickman led the Vikings with five assists and has a team-best 28 on the year.
Freshman Sarah Osier (Naperville Central HS, Naperville, Ill.) went the distance in goal for Augustana, recording 10 saves.
Coach Sara Tisdale's squad is now idle until Friday April 13, when they take on Trine in Angola, Indiana at 5:00 p.m.