March 31, 2012
2011-12 Season - Vikings drop 6-3 decision to Macalester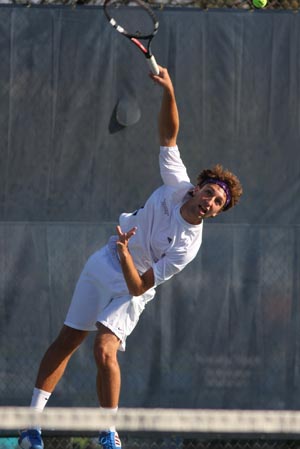 Andy Wall picked up a win at number three singles in 6-3 loss to Macalester to run his record to 14-7 on the season.
EAU CLAIRE, Wisconsin - Augustana dropped a 6-3 decision to Macalester on Saturday, March 31 in a non-conference men's tennis decision. The match, which was played in Eau Claire, Wisconsin, featured 10 tie-breakers and Macalester won seven of those and that proved to be a turning point in the contest.
Macalester won all three doubles matches by identical 9-8 decisions. Facing a 3-0 deficit heading into the singles portion of the match, the Vikings won three but it was not enough as Augustana fell to 11-6 overall.
Senior Adam DeSimone (Bettendorf HS, Bettendorf, Iowa) won a tight 6-7; 6-4; 10-5 match at number one singles over Chris Fauler. DeSimone moved his record to 12-10 overall.
Sophomore Andy Wall (Notre Dame Academy, DePere, Wis.) beat Stephen Tyndel at number three single in a tight 7-6; 3-6; 10-8 match. Wall improved to 14-7 for the season.
The other Augustana victory came at number five singles where sophomore Colin Arnold (Sterling HS, Sterling, Ill.) beat Lewis Wilcox by default.
Augustana will be off until opening College Conference of Illinois & Wisconsin play on April 12 at home against Illinois Wesleyan.
SINGLES
1 - Adam DeSimone (A) beat Chris Fauler (M) 6-7; 6-4; 10-5
2 - Evan Elderbrock (M) beat Lawrence Palmer (A) 6-1; 4-6; 10-8
3 - Andy Wall (A) beat Stephen Tyndel (M) 7-6; 3-6; 10-8
4 - Max Edwards (M) beat Jack Cullen (A) 6-1; 7-6
5 - Colin Arnold (A) beat Lewis Wilcox (M) by default
6 - Max Soghikian (M) beat Kevin Bayles (A) 6-1; 5-7; 10-6
DOUBLES
1 - Evan Elderbrock/Lewis Wilcox (M) beat Adam DeSimone/Andy Wall (A) 9-8
2 - Chris Fauler/Stephen Tyndel (M) beat Lawrence Palmer/William Palmer (A) 9-8
3 - Max Edwards/Max Soghikian (M) beat Colin Arnold/Jack Cullen (A) 9-8