April 1, 2012
2011-12 Season - Carr & Vandersee lead Vikings to win at Loras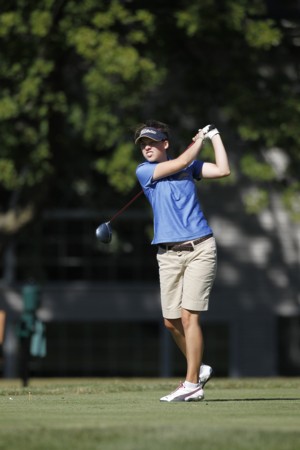 Junior Megan Vandersee was one of two Vikings, along with medalist Brittany Carr, to shoot an 86 Sunday as Augustana won the team title at the Loras Invitational.
PEOSTA, Iowa-Senior Brittany Carr (Lincoln-Way East HS, Frankfort, Ill.) and junior Megan Vandersee (Sterling HS, Sterling, Ill.) each shot an 86 Sunday to lead coach Ron Standley's Augustana women's golf team to a win at the Loras Spring Invitational at Thunder Hills Country Club. Carr was declared the individual medalist based on tiebreaking criteria.
Carr shot a 43 on both the front and back nine, while Vandersee fired a 44 on the front and a 42 on the back.
Viking junior Morgan Wilkinson (Westmont HS, Westmont, Ill.) finished fifth individually with an 89. She started fast, shooting a 43 on the front nine. Sophomores Kelly Farina (Normal West HS, Bloomington, Ill.) (94) and Dena Capitani (Hinsdale Central HS, Hinsdale, Ill.) (95), finished 11th and tied for 12th, respectively, to help Augustana win the six-team invitational. The Vikings shot a collective 355, 12 strokes better than the hosts, who finished second.
A second Augustana team finished fifth, led by sophomore Megan Alano's (Lockport HS, Crest Hill, Ill.) 96.
The win was the Vikings second invitational title during the 2011-12 season. They captured the eight-team Benedictine Invitational in September.
Next up is the two-round Millikin Invitational on Friday, April 13 and Saturday, April 14. Tee-off is scheduled for 1:00 p.m. each day.