April 1, 2012
2012 Season - Vikings take two more at Augustana Invite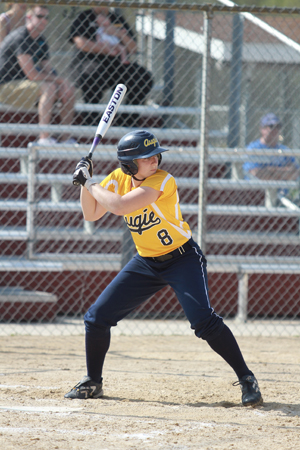 Senior Jillian Gibbs went 4-for-6 with a home run Sunday as the Vikings won a pair of games at the Augustana Invitational at Green Valley Sports Complex. They defeated UW-Oshkosh 3-1 and Wartburg 2-0 to finish the weekend with a 4-0 record.
MOLINE, Ill.- Senior Jillian Gibbs (Rock Island HS, Rock Island, Ill.) had a big day Sunday at the Augustana Invitational at Green Valley Sports Complex. She went 2-for-3 in each game as the Vikings defeated Wisconsin-Oshkosh 3-1 and Wartburg 2-0 to improve to 15-5 on the season. Included in Gibbs' hits was her second home run of the season in the Oshkosh win.
AUGUSTANA 3, UW-OSHKOSH 1
Gibbs went 2-for-3 with a home run in Augustana's 3-1 win over UW-Oshkosh. She also got a one-out infield single, stole second and scored the eventual winning run in the bottom of the fifth.
Viking ace Sarah Hintz (LeRoy HS, LeRoy, Ill.) ran into trouble in the top of the second, but pitched out of a bases loaded jam to keep the game scoreless. In the bottom of the third, Gibbs led off with a home run to center, her second of the season, to give Augustana a 1-0 lead.
It stayed that way until the Oshkosh fifth, when leadoff hitter Emily Mallek reached on a two-out error. Kelly Koebler singled as did Tess Fadness, scoring Mallek with the tying run. In the bottom of the frame, Gibbs got a one-out infield single. With two outs she stole second and scored when senior Dawn Kernich (Mt. Olive HS, Mt. Olive, Ill.) reached on an error. Sophomore Krista Watson (Coal City HS, Coal City, Ill.) followed with a single, but Kernich was cut down at the plate trying to score from second.
Two hits, an error and a walk led to an insurance run for Augustana in the sixth. Freshman Laura Behnke (Wheaton St. Francis HS, Roselle, Ill.) brought in classmate Chelsea Lavin (Downers Grove South HS, Downers Grove, Ill.) with a single. The Vikings threatened to get more, but Titan reliever Julia Sweeney retired the final two batters with the bases loaded to keep the score 3-1.
It didn't matter though, because Hintz set Oshkosh down in order in the sixth and seventh innings to get her 10th win of the season against just a single loss. It was her sixth complete game in eight starts this year.
AUGUSTANA 2, WARTBURG 0
Sophomore Courtney Ledezma (United Township HS, East Moline, Ill.) spun a complete game, three-hit shutout in the Vikings' second game of the day to even her record at 3-3 this season. She issued just two walks while fanning six and allowed only one Knight to reach as far as second base.
The Vikings scored single runs in the fourth and seventh. Sophomore Christie Wiersema (Morrison HS, Morrison, Ill.) singled to lead off the fourth. After Gibbs grounded into a 5-4 fielder's choice, freshman catcher Jaclyn Wrona (Glenbard South HS, Wheaton, Ill.) laced a double to left center, scoring her with the game's first run.
Ledezma helped her own cause in the Viking seventh, starting the inning with a one-out single to right. Kelsey Winter (United Township HS, East Moline, Ill.) ran for her and advanced to second on a Chaney Tambling (Dwight HS, Dwight, Ill.) single to left. Wiersema then line a single to right center, scoring Winter to give Augustana a 2-0 lead.
The Vikings begin CCIW play on Thursday, April 5 with a doubleheader at Wheaton. First pitch is scheduled for 3:00 p.m.