March 31, 2012
2012 Season - Wallace gets 500th collegiate win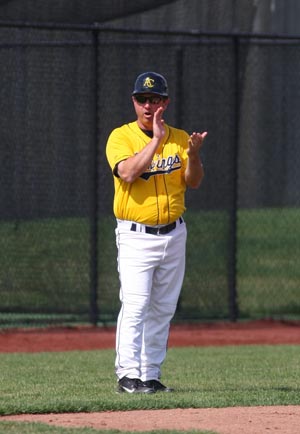 Augustana head coach Greg Wallace picked up his 500th collegiate win Saturday when his Vikings split a doubleheader at Elmhurst. They dropped the opener 5-2, but bounced back to get Wallace number 500 with a 4-2 win in the nightcap.
ELMHURST, Ill.-Augustana head coach Greg Wallace picked up his 500th collegiate coaching victory Saturday, defeating Elmhurst 4-2 in the second half of a CCIW-opening twin bill in Elmhurst, Illinois. The Vikings dropped the opener 5-2 and are now 13-4 on the year and 1-1 in the league.
GAME ONE-ELMHURST 5, AUGUSTANA 2
After three scoreless innings, Augustana threatened in the top of the fourth, but left runners stranded at first and third. The hosts got to Augustana starter Jared McIntosh (Assumption HS, Davenport, Iowa) for four runs in the bottom of the inning. Tyler Wargo started things with a leadoff walk, moved to second on a groundout and scored the game's first run on Marc Shield's RBI single. Joe Kennedy had a two-run single and Eric Stevenson an RBI single in the inning as well.
Shield drove in another run in the fifth to make it 5-0 Elmhurst.
Meanwhile, Bluejay starter Joe Luft cruised until the ninth inning, when Jeremy Juhl (Glenbard East HS, Lombard, Ill.) led off with a single and Mark Van Natta (Alleman HS, Moline, Ill.) singled one out later. After a walk to Mike Barker loaded the bases, junior first baseman Grant Stewart (Sterling HS, Sterling, Ill.) erased the Vikings' goose egg with a two-run single that knocked out Luft.
Erik Swanson came on in relief and promptly hit Joe Cecchi (Romeoville HS, Romeoville, Ill.) to load the bases again. However, he fanned Kevin Serna (Rolling Meadows HS, Arlington Heights, Ill.) to end the game and get his first save of the season.
Luft got the win to go to 3-1 on the year. McIntosh fell to 1-2 with the loss. Freshman southpaw Seth Davis (J.K. Mullen HS, Aurora, Colo.) threw three scoreless innings in relief, allowing just one hit and one walk and fanning three.
GAME TWO-AUGUSTANA 4, ELMHURST 2
Senior starter Mike Trotta (Notre Dame HS, Chicago, Ill.) scattered nine hits over six innings and senior reliever Josiah Martin (Canton HS, Canton, Ill.) threw three perfect innings in relief in the nightcap Saturday as the Vikings defeated Elmhurst 4-2 to get Wallace win number 500. Kurt Schmidt (Grayslake Central HS, Grayslake, Ill.) had two hits and McIntosh drove in a pair of runs to lead the offense.
Augustana jumped in front with a run in the top of the first. Jacob Van Duyne (Wilmington HS, Wilmington, Ill.) and Barker were each hit by pitch with one out and Van Duyne eventually scored on a McIntosh groundout. The Vikings added single runs in the third and seventh while Trotta was shutting out the Bluejays.
In the bottom of the seventh, however, Kennedy led off with a single, Brian Marquis doubled and Jake Bronkema singled in a run, prompting Wallace to bring Martin out of the bullpen. He induced Stevenson to ground into a 6-3 double play which scored Elmhurst's second run. He then fanned Evans to end the inning and set the Bluejays down in order in the eighth and ninth to earn his second save of the year.
Schmidt's RBI double in the top of the ninth had provided Martin with an insurance run.
Trotta got his fourth win in as many decisions. He walked one and fanned two. Jordan Hanlon went the distance for Elmhurst and suffered his first loss in three decisions.
The two teams finish the series with a single game at Swanson Stadium/Brunner Field in Moline, Illinois on Sunday, April 1 at 1:00 p.m.