March 31, 2012
2011-12 Season - Vikings win two on Senior Day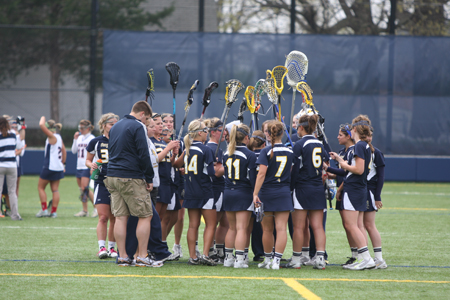 Augustana defeated Missouri Baptist 22-11 and Robert Morris 22-0 on Senior Day Saturday at Thorson-Lucken Field. The Vikings improve to 10-3 on the season and finish the home portion of their schedule a perfect 7-0.
ROCK ISLAND, Ill..-Augustana scored 44 goals on the day, including four by its lone senior, Maribeth Shea (Willows Academy, Chicago, Ill.), and coasted to wins of 22-11 over Missouri Baptist and 22-0 over Robert Morris Saturday at Thorson-Lucken Field. Freshman goalkeeper Sarah Osier (Naperville Central HS, Naperville, Ill.) posted her first shutout in the second contest, helping Augustana improve to 10-3 in its first season of varsity competition, including a perfect 7-0 at home.
AUGUSTANA 22, MISSOURI BAPTIST 11
Freshman Christina Letmanksi (Glenbard West HS, Wheaton, Ill.) scored seven goals and classmate Hannah Dickman (Stillwater Area HS, Stillwater, Minn.) added five goals and four assists in Saturday's first game as Augustana moved to 9-3 on the year with a 22-11 win over Missouri Baptist.
Letmanksi and Dickman, along with freshman Kate Zisser (Kirkwood HS, St. Louis, Mo.), each had goals in the first four minutes of the game as the Vikings jumped out to a 3-0 lead. The Spartans' Lauren Murray scored on a Vanessa Kretzler assist to cut the lead to 3-1 at the 24:52 mark of the first half.
Four different Vikings found the net over the next seven minutes to extend the advantage to 7-1. Freshman Kelly Stelzer (Wheaton Warrenville South HS, Wheaton, Ill.), who assisted on Augustana's first two goals of the game, scored her 18th goal of the season with a helper from Dickman. Hilary Kargl (Sacred Heart Academy, Louisville, Ky.) got an assist from Allie Roehrenbeck (Columbus Academy, Gahanna, Ohio) on her 61st goal of the season. Kelly Molloy (Glenbard West HS, Glen Ellyn, Ill.) and Letmanksi followed with unassisted goals.
Kretzler answered with her first of seven goals in the game before the Vikings put together another four-goal run to go up 11-2. Letmanksi scored twice and Roehrenbeck and Shea once each.
Another Kretzler goal and two by Dickman made it 13-3 before the Spartans scored three straight goals. Dickman stanched the flow with a goal with 10 seconds left and the teams went to intermission with Augustana leading 14-6.
A pair of Kretzler goals early in the second half got Missouri Baptist as close as 15-8 before five different players strung together five straight Augustana goals for a 20-8 lead. Fittingly, Dickman and Letmanksi scored the Vikings' final two goals before the Spartans' Monica Blasi scored with three seconds left to account for the final.
Freshman Emily Pavlik (Lyons Township HS, LaGrange, Ill.) had team highs of four caused turnovers and five draw controls in the game and Osier was credited with seven saves.
The hosts held a 34-21 edge in shots, 18-12 in ground balls and 20-15 in draw controls. Missouri Baptist committed 33 turnovers to 26 for the Vikings.
AUGUSTANA 22, ROBERT MORRIS 0
Seven Vikings had at least two goals, with Letmanksi's five and Kargl's four leading the way, in a 22-0 whitewash of Robert Morris. Letmanksi added three assists and Osier stopped six shots in recording her first shutout.
Viking defenders Bridget Conniff (Benet Academy, Downers Grove, Ill.) and Michelle Funk (Benet Academy, Naperville, Ill.) were also instrumental in holding the Eagles without a goal. Conniff, a freshman, forced five turnovers in the contest, tying her for team high with Shea. Funk, a sophomore, tied Pavlik for the team lead with three ground balls. Pavlik also had a team-best four draw controls.
Kargl got Augustana started, scoring two goals in the first 44 seconds of the game. Her third goal of the match, with 21:07 left in the first half, gave the Vikings a 7-0 lead. She would get her fourth of the game and 66th of the season midway through the second half. Shea found the net for the first time in the game on an assist from Dickman to make it 10-0 at the 14:38 mark of the first half. The helper was Dickman's team-leading 23rd of the season.
It was 14-0 at the half. Shea scored the Vikings' first goal of the second half and closed out the scoring with her 10th goal of the season with 1:23 remaining. She then left to a loud ovation from the Thorson-Lucken faithful.
Coach Sara Tisdale's squad is next in action on Monday, April 2 facing Puget Sound in Naperville, Illinois at 1:00 p.m. Augustana closes the season with four more road contests.