March 30, 2012
2011-12 Season - Wall and Arnold help lift Vikings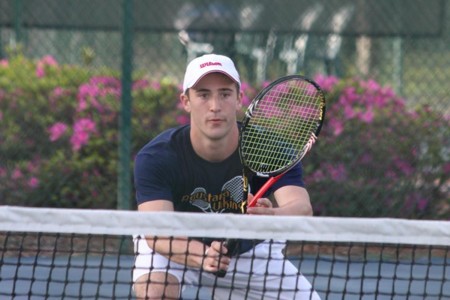 Sophomore Colin Arnold won in singles and teamed with classmate Andy Wall to win in doubles as Augustana knocked off Wisconsin-Eau Claire, the NCAA Central Region's 16th-ranked team.
EAU CLAIRE, Wisconsin - Sophomores Andy Wall (Notre Dame Academy, DePere, Wis.) and Colin Arnold (Sterling HS, Sterling, Ill.) came through to clinch a 5-4 non-conference men's tennis victory for Augustana over Wisconsin-Eau Claire on Friday, March 30 in Eau Claire, Wisconsin. It was a dramatic win for the Vikings and an important one as well as it came over a Blugold team that was ranked 16th in the NCAA Division III Central Region.
The match was tense throughout and first year head coach Jon Miedema's team jumped up early with wins in two of the three doubles contests. Senior Adam DeSimone (Bettendorf HS, Bettendorf, Iowa) and Wall picked up a hard-fought 8-6 win at number one over Chris Kuna and Joey Minear. That moved DeSimone and Wall to 12-6 on the season. Arnold and junior Jack Cullen (Edgewood HS, Madison, Wis.) beat David Stingley and Michael Roden 8-6 at number three to improve to a sparkling 11-2 this year.
With the 2-1 lead, the action moved to singles where four of the six matches would eventually go the full three sets. Freshman Lawrence Palmer (Schiller International, El Prat de Llobregat, Spain), who has been red-hot of late, handled Ryan Vande Linde 6-3; 6-2 at number two. That was Palmer's fifth straight victory and he bumped his record past .500 at 8-7 after starting the year at 0-5.
DeSimone lost a tough one at number one singles by a score of 2-6; 6-2; 3-6 against Kuna and sophomore Kevin Bayles (Homewood-Flossmoor HS, Flossmoor, Ill.) fell to Roden 6-7; 2-6 at number six.
Wall and Arnold then came through with their wins at number three and five respectively to clinch the match for Augustana. Wall went three sets with Florent Marco at number three before winning 4-6; 7-5; 6-1 to push his record to 13-7. Arnold's win was also a three set affair and it came over Joe Meier by scores of 6-4; 6-7; 7-6. Arnold is now 14-5 and he leads the team in singles victories.
Cullen was still on the court at the time but because the match was clinched, his battle at number four with Joey Minear was cut short and a tie breaker was played in the third set. Cullen and Minear split the first two sets with Cullen winning the first 6-4 and dropping the second 7-5 before losing the tie-breaker 10-5.
Augustana is now 11-5 overall with four straight wins while UW-Eau Claire falls to 13-7.
SINGLES
1 - Chris Kuna (UWEC) beat Adam DeSimone (A) 6-2; 2-6; 6-3
2 - Lawrence Palmer (A) beat Ryan Vande Linde (UWEC) 6-3; 6-2
3 - Andy Wall (A) beat Florent Marco (UWEC) 4-6; 7-5; 6-1
4 - Joey Minear (UWEC) beat Jack Cullen (A) 4-6; 7-5; 10-5
5 - Colin Arnold (A) beat Joe Meier (UWEC) 6-4; 6-7; 7-6
6 - Michael Roden (UWEC) beat Kevin Bayles (A) 7-6; 6-2
DOUBLES
1 - Andy Wall/Adam DeSimone (A) beat Chris Kuna/Joey Minear (UWEC) 8-6
2 - Ryan Vande Linde/Dirk Van Rybroek (UWEC) beat William Palmer/Lawrence Palmer (A) 8-3
3 - Colin Arnold/Jack Cullen (A) beat David Stingley/Michael Roden (UWEC) 8-6
RECORDS: Augustana 11-5 & UW-Eau Claire 13-6...UW-Eau Claire is ranked 16th in NCAA Division III Central Region.