March 30, 2012
2012 Season - Hosts lead after first day of Viking Olympics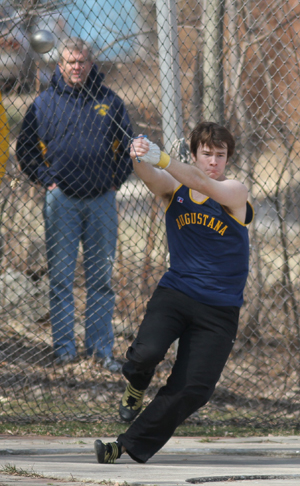 Senior Adam Myers took second place in the hammer throw with a mark of 182' 3" Friday at the Viking Olympics. Myers' effort helped Augustana take the team lead after day one.
ROCK ISLAND, Ill. - Behind a winning effort from its 4x800 relay team and a school record in the shuttle hurdle relay, Augustana grabbed the lead after the first day of the Viking Olympics Friday at Ericson Field. The winning 3200 relay consisted of Joe Zahn (Moline HS, Moline, Ill.), Matt Simo (York HS, Elmhurst, Ill.), Dennis O'Flaherty (Sandburg HS, Orland Park, Ill.) and Justin Smith (Fenton HS, Bensenville, Ill.). The Vikings compiled 93 points, while Dubuque sits second in the six team field with 39.
The Augustana individuals garnered second place finishes on Friday. Senior Adam Myers (Dixon HS, Dixon, Ill.) threw the hammer 182' 3". Freshman Jeff Padesky (Moline HS, Moline, Ill.) cleared 14' 4½" in the pole vault and senior Thomas Christian (Port Angeles HS, Port Angeles, Wash.) finished the 3000-meter steeplechase in 9:45.29, edging out sophomore Tyler Busch (Winnebago HS, Winnebago, Ill.), who was third in 9:46.44. Junior Tommy Harris (Assumption HS, Davenport, Iowa) ran a 9:54.74 to take fourth.
Junior Kevin Macek (Sandburg HS, Orland Park, Ill.) finished fourth in the hammer with a heave of 156' 1".
The Vikings finished second in the 4x110 shuttle hurdle with a school-record 1:02.30. The new record was set by the team of David Voland (Batavia HS, Batvia, Ill.), Kyle Bennett (Davenport West, Davenport, Iowa), Greg Davis (Carlinville HS, Carlinville, Ill.) and Marty King (Oswego HS, Oswego, Ill.). The distance medley (10:59.71) and 4x200 (1:29.47) relays also placed second. Brian Pollastrini (York HS, Elmhurst, Ill.), Bennett, Brad Keating (Cary-Grove HS, Cary, Ill.), and Grant Bell (Belgrade-Brooten-Elrosa HS, Belgrade, Minn.) ran the DMR, while the 800 relay was made up of David Devore (Midland HS, Midland, Mich.), Keith Cline (Byron HS, Byron, Ill.), Greg Patton (Bloomington HS, Bloomington, Ill.) and Alex Rindone (Marmion Academy, Geneva, Ill.)
St. Ambrose is in third place after day one with 37 points, followed by Ashford (30) in fourth, Loras (15) in fifth and Wartburg (14) in sixth.
The Viking Olympics resume on Saturday, March 31 at noon at Ericson Field.