March 30, 2012
2011-12 Season - Number one ranked offense propels Vikings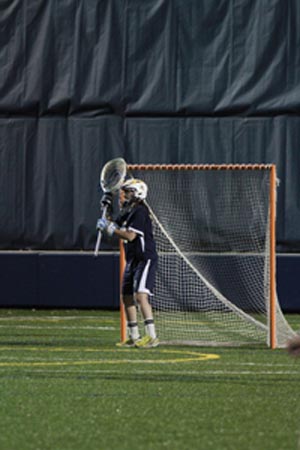 Freshman goalie Sarah Osier anchors the Viking defense, ranking 12th in the nation with a total of 89 saves.
The Augustana women's lacrosse team has continued their superb start to its first season, riding a prolific offense to an 8-3 record. In the second edition of the national lacrosse rankings, the Vikings rank near the top of the nation in several offensive categories. The team ranks first in points scored, third in both scoring offense and caused turnovers, 13th in scoring margin and 25th in draw controls.
Through their first 11 games, Augustana has racked up a nation leading 287 points. The team's scoring offense, which is the average amount of goals scored per game, is ranked third with an average of 18.27 goals per game. Coach Sara Tisdale's Vikings have an average scoring margin of 9.09, ranked 13th in the country. Keuka leads the nation with a margin of 17.0. The team's average of 13.09 caused turnovers per game also ranks third, and their average of 15.64 draw controls per game ranks 25th.
Freshman Hilary Kargl (Sacred Heart Academy, Louisville, Ky.) has continued her torrid start to the season. She leads the country with 60 goals scored, and is second in total points with 71. Kargl is averaging 5.0 goals per game, which ranks her fifth in the country. Rachel Raffa of Oswego St. leads the country in that category with an average of 7.0. Kargl's average of 6.45 points per game ranks her 17th in the country.
Kargl's fellow freshman attacker Hannah Dickman (Stillwater Area HS, Stillwater, Minn.) also ranks in the top echelon in several categories. She is 21st in total points scored with 46, and ranks 16th in assists with a total of 18. Another freshman, Christina Letmanski (Glenbard West HS, Wheaton, Ill.), ranks 32nd in points and 29th in assists in the latest rankings.
Freshman goalie Sarah Osier (Naperville Central HS, Naperville, Ill.) continues to anchor the Viking defense, ranking 12th in the country with a total of 89 saves. Alyssa Batty of Wesley leads the country with a total of 136.
Augustana hosts Missouri Baptist on Saturday, March 31 at 10:00 a.m. at Thorson-Lucken Field followed by a 2:00 game against Robert Morris.