March 30, 2012
2011-12 Season - NCAA rankings has Augustana first in scoring defense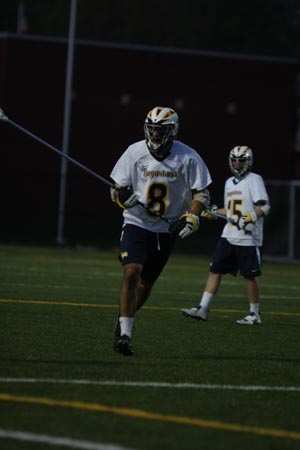 Senior captain Marcus Maier has anchored the stingy Viking defense, which is ranked first in scoring defense nationally.
The Augustana men's lacrosse team continued to make waves across the NCAA Division III national lacrosse landscape in its first season with the second release of the national lacrosse rankings. The Viking defense has driven the team's success all season, and it is apparent in the recent set of rankings. Augustana is ranked first in the country in scoring defense, giving up an average of just 4.0 goals per game. Freshman goalie Cody Burgdorff (Peak to Peak HS, Lafayette, Colo.) has continued his outstanding season, as he ranks ninth in the country in goals-against average and sixteenth in save percentage.
The Vikings' have relied on their defense en route to posting a 6-4 record so far. Besides the number one ranking in scoring defense, which is the average amount of goals given up per game, head coach Kyle Hart's team also ranks 12th in the country in scoring margin. Scoring margin is calculated by taking the average difference between goals scored and goals allowed. Augustana has outscored their opponents by an average of 6.56 goals per game. Salisbury continued to lead the nation in that category, with an average margin of 13.6 goals.
Burgdorff's goals against average of 5.02 is just behind the national leader, Matt Reynolds of Lyndon State, who allows an average of 4.0 goals per game. Burgdorff's save percentage is .644, which means he stops close to 65% of the shots he faces. Tom Driscoll of Daniel Webster leads the country in this category with a .776 average. Freshman Jesse Nagelberg (St. Charles East HS, St. Charles, Ill.) also made an appearance in the national rankings, ranking 41st in goals per game, with an average of 2.89.
The Vikings next play Hanover on Wednesday, April 4 in Indianapolis, Indiana.