March 29, 2012
2012 Season - Men's Track ranked 7th in NCAA Division III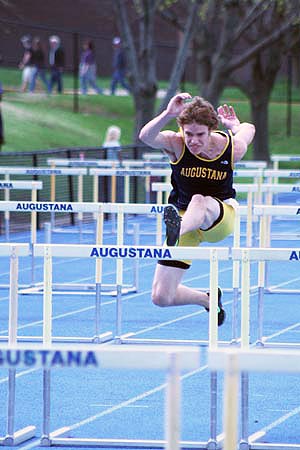 Freshman David Voland won the 400 intermediate hurdles at the Viking Open on Saturday, March 24. Augustana is currently ranked seventh in NCAA Division III.
The Augustana men's track and field team has gotten off to a quick start in this outdoor season. In the preseason U.S. Track & Field and Cross Country Coaches Association national team computer rankings, the Vikings are ranked 7th overall with 90.25 points.
The USTFCCCA national team rankings provide a glimpse at the teams who have the best potential of achieving the top spots in the national-title race. It is based on the current national descending order lists, which are put into a mathematical formula to compile the rankings. This is an indicator of the teams with the best chances and deepest rosters to compete at the highest level.
Two Wisconsin state schools are at the top of the rankings to start the season, with UW-LaCrosse (185.30 points) slightly ahead of UW-Oshkosh (185.12). McMurry is ranked third with 165.63 points, followed by Augustana's College Conference of Illinois and Wisconsin rival North Central with 130.95 points. UW-Whitewater has 101.98 points, putting them in the fifth spot, ahead of Calvin, who has 92.01. Augustana is seventh, ahead of La Verne (89.01) and Central of Iowa (87.11) with Whitworth (74.88) rounding out the top ten.
The Vikings started the season strong, finishing second at its own Viking Open on Saturday, March 24. Augustana scored 233 points, close behind fifth-ranked UW-Whitewater who finished with 251.5 points. Ninth-ranked Central of Iowa also competed at this meet, scoring 125 points to finish third.
Augustana will be in action again on Friday, March 30 and Saturday, March 31 when it hosts the Viking Olympics.
2012 NCAA DIVISION III OUTDOOR NATIONAL TEAM COMPUTER RANKINGS
Sponsored by the USTFCCA
As of 03/28/2012
PRESEASON
| | | |
| --- | --- | --- |
| RANK | SCHOOL | POINTS |
| 1. | Wisconsin-LaCrosse | 185.30 |
| 2. | Wisconsin-Oshkosh | 185.12 |
| 3. | McMurry | 165.63 |
| 4. | North Central | 130.95 |
| 5. | Wisconsin-Whitewater | 101.98 |
| 6. | Calvin | 92.01 |
| 7. | AUGUSTANA | 90.25 |
| 8. | La Verne | 89.01 |
| 9. | Central (Iowa) | 87.11 |
| 10. | Whitworth | 74.88 |