March 28, 2012
2012 Season - Augustana handles Scots 8-3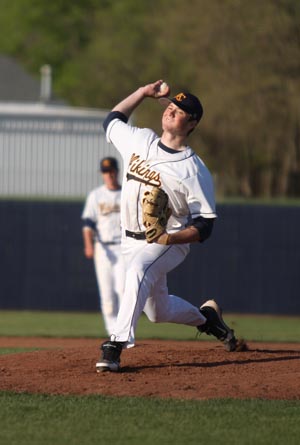 Freshman Kevin Hodgman started and went five innings Wednesday night to pick up his first collegiate win as Augustana defeated Monmouth 8-3 at Swanson Stadium/Brunner Field.
MOLINE, Ill.-Augustana jumped out to a 3-0 lead after one inning and cruised to an 8-3 win over Monmouth Wednesday at Swanson Stadium/Brunner Field. Freshman starter Kevin Hodgman (Neuqua Valley HS, Naperville, Ill.) went five innings to pick up his first collegiate win. The Vikings improved to 12-3 on the year, while the Scots fall to 13-10.
After Hodgman threw a scoreless top half, Mark Van Duyne's (Wilmington HS, Wilmington, Ill.) one-out bunt single got things started for the Vikings in the bottom of the first. He moved to second on an error and came home on Mike Barker's (Centennial Colo. Grandview HS, Marina del Rey, Cal.) RBI single to center. Jared McIntosh (Assumption Hs, Davenport, Iowa) followed with an RBI triple and scored himself on a Grant Stewart (Sterling HS, Sterling, Ill.) double to give the hosts a 3-0 lead after one.
Hodgman set Monmouth down in order in the second and fanned the first two Scots in the third, but a pair of walks, two wild pitches and Mitch Johnson's two-run double cut the Viking lead to 3-2.
Augustana bounced right back with a run in the bottom of the inning and two more in the fourth. Joe Cecchi (Romeoville HS, Romeoville, Ill.), Jeremy Juhl (Glenbard East HS, Lombard, Ill.) and Barker each drove in runs with infield grounders.
In the sixth, Barker singled, stole second and scored on a single by Cecchi and the Vikings added the final run in the seventh on a leadoff triple by Stewart and a single by Kurt Schmidt (Grayslake Central HS, Grayslake, Ill.).
Hodgman gave up three hits and two runs in his five-inning stint. He walked four and fanned five. Ben Heaton (Bloomington Central Catholic HS, Heyworth, Ill.) relieved him in the sixth and allowed just an unearned run in two innings of work. Rick Erickson (Lake Zurich HS, Hawthorn Woods, Ill.) struck out the side in the eighth and Josiah Martin (Canton HS, Canton, Ill.) finished things up in the ninth.
Barker went 2-for-3 with three runs scored and a pair driven in. McIntosh and Stewart each had a double and a triple. Van Duyne had two hits as well and Cecchi two RBI.
Tonight's win was the 499th as a college head coach for the Vikings' Greg Wallace. He'll be going for number 500 when Augustana travels to Elmhurst on Saturday, March 31 for a 1:00 p.m. doubleheader.