March 28, 2012
2011-12 Season - Aurora hands Vikings first home loss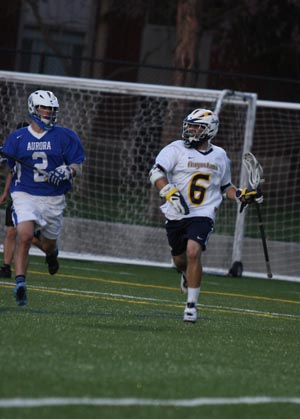 Freshman J.G. Saunders led the Vikings with five ground balls and won five faceoffs, but the Augustana fell 9-2 to Aurora at Thorson-Lucken Field.
ROCK ISLAND, Ill.-Aurora scored two of its first three goals when a man down Wednesday and went on to hand Augustana its first home loss of the season, 9-2, at Thorson-Lucken Field. Overall, the Vikings are 6-4 on the season, while Aurora improved to 5-2.
The first quarter was a defensive struggle. Pat Diorka scored his third goal of the season with 6:51 to go to give the visitors a 1-0 lead. It looked as though that would be the only score of the period, but with Augustana a man up and winding the clock down and the end of the quarter, Aurora's Spencer Fuqua intercepted a pass in front of his own goal and dashed the length of the field to set up Danny Loyall's 12th goal of the season with 10 seconds left. Nolan Miller picked up the assist.
The Spartans' first goal of the second quarter was by Jack Meachum at the 7:50 mark and also came with Aurora a man down. Loyall and Meachum each scored again before Vincent Giglierano (Archbishop Mitty HS, San Jose, Cal.) got the Vikings on the board with his seventh goal at the 1:51 mark of the second quarter. The half ended with Augustana trailing 5-1.
Cooper O'Brien's third quarter goal, his first of the year, made it 6-1 after three periods and the only goal the Vikings could muster in the fourth was Tim Fennelly's (Littleton HS, Centennial, Colo.) 14th of the season. Zach Olsen, Garret Rosiek and Loyall scored for Aurora to account for the final.
The Spartans outshot Augustana 34 to 25 and won nine of 14 faceoffs. The hosts held a narrow 21-20 advantage in ground balls. Each team committed 20 turnovers.
Viking goalkeeper Cody Burgdorff (Peak to Peak HS, Lafayette, Colo.) recorded 13 saves in the match, while Aurora's Adam Holka had a dozen.
Coach Kyle Hart's squad is next in action on April 4, taking on Hanover in Indianapolis, Indiana.