March 28, 2012
2012 Season - Vikings split with Queen Bees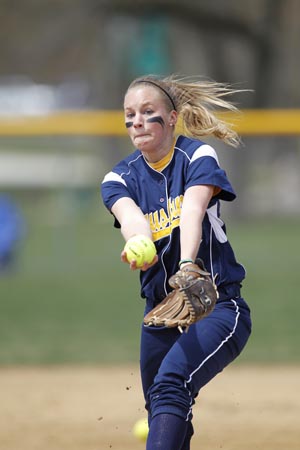 Sophomore Sarah Hintz tossed a three hitter in the first game of a double header with St. Ambrose on Wednesday afternoon, winning 4-0. She upped her record to 8-1 on the season.
ROCK ISLAND, Ill. - Augustana split a non-conference double header with St. Ambrose on Wednesday afternoon, March 28 at Carver Field. The Vikings used a tremendous pitching performance from sophomore Sarah Hintz (LeRoy HS, LeRoy, Ill.) and the hot bat of sophomore Krista Watson (Coal City HS, Coal City, Ill.) during a 4-0 victory in game one. Game two was a different story, however, as Augustana could manage just three hits off St. Ambrose ace Nichole Garland and fell 4-0.
The Vikings are now 11-5 on the season heading into the Augustana Invitational on Saturday, March 31 and Sunday, April 1 at Green Valley Sports Complex in Moline, Illinois.
The loss to St. Ambrose in the second game was the first to the Queen Bees since 2003, snapping a 12 game Viking winning streak in the series.
GAME 1 - Augustana 4, St. Ambrose 0
Hintz tossed a gem in the first game, going the distance and allowing just three hits and a walk while striking out five. She moved her record to 8-1 on the season.
Augustana collected eight hits off a pair of St. Ambrose pitchers and Watson was in the middle of most of the offense. In the first inning, she singled in freshman left fielder Laura Behnke (Wheaton St. Francis HS, Roselle, Ill.), who led off the frame by reaching on an error, to give Hintz a 1-0 lead.
The Vikings scored a run in the second when freshman catcher Jaclyn Wrona (Glenbard South HS, Wheaton, Ill.) walked with one out. She went to second on a ground out and scored on a single off the bat of freshman second baseman Jenna Teson (Jacobs HS, Algonquin, Ill.).
Watson doubled with one out in the third and scored on a single by sophomore first baseman Courtney Ledezma (United Township HS, East Moline, Ill.). That made it 3-0. The Vikings final run came in the fifth when Watson led off with a double and tallied on a sacrifice fly off the bat of freshman designated hitter Christie Wiersema (Morrison HS, Morrison, Ill.).
Watson finished the game with three hits, two runs scored and an RBI. Ledezma and Teson each had two hits and an RBI.
GAME 2 - St. Ambrose 4, Augustana 0
The Vikings could not get much going against Garland, collecting just three hits in the game.
The contest was tied heading into the top of the fifth when the Queen Bees used back-to-back two-out doubles by Katilyn Reiser and Britney Carlson and single by Kerrie Tenboer to plate two runs. St. Ambrose would add two more insurance runs off Ledezma, the Augustana starter, in the fifth to make it 4-0.
Garland only struck out one batter but she also allowed just three hits as she moved her record to 7-1.
Ledezma worked 5 1/3 innings and was hung with the loss. She gave up all four runs and six hits while striking out three.