Center for the Study of Ethics offers two lectures
March  28, 2012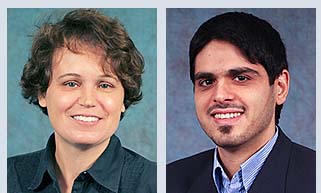 Dr. Joanna Short and Dr. Cyrus A. Zargar
The Augustana Center for the Study of Ethics will sponsor two free public lectures in April as part of its Community Lecture Series. Both events will take place in Room 102, Hanson Hall of Science, 738 35th St., Rock Island.
• Dr. Cyrus A. Zargar, assistant professor of religion, will present "Jihad in the Context of Islamic Ethics: Mercy and Justice, Duty and Consequences" at 7:30 p.m. April 2. He will discuss varying interpretations of jihad and the theological implications of early Islamic history. In particular, he will explore two diverging interpretations of jihad that have had great relevance for Muslim-majority communities.
• Dr. Joanna Short, associate professor of economics, will present "Can (Any) Health Reform Bill Solve the Problems of U.S. Health Care?" at 7:30 p.m. April 17. She will investigate the problems associated with health care and explain how reforms can both aid and hinder the system. She also plans to discuss what may be "more productive avenues for reform that are not widely discussed."
The Community Lecture Series is funded by Augustana's Center for the Study of Ethics as a way of expressing appreciation for the support Augustana receives from the community.
"Attendance at the on-campus presentations of the lectures is an excellent opportunity for members of the broader community to interact with Augustana students and faculty and to share in the intellectual life of the college," said Dr. Dan Lee, professor of ethics and director of the center.
Sam Schlouch
Senior Communication Director
(309) 794-7833
samschlouch@augustana.edu