March 27, 2012
2012 Season - 400 relay wins CCIW recognition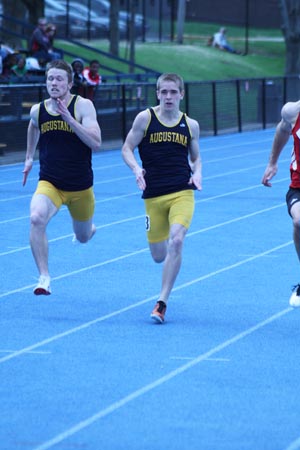 Sophomore Jay Graffagna (left) and freshman Keith Cline (right) handled two legs of the Vikings' 400 relay team that recorded a time of :41.66 at the Viking Open on Saturday, March 24. The entire unit was honored by the College Conference of Illinois & Wisconsin as the "Athlete of the Week" in men's track & field.
Augustana's 400 meter relay team has been selected as the "Athletes of the Week" for men's track & field in the College Conference of Illinois & Wisconsin. The relay team helped pace the Vikings to a second place team finish at the Augustana's Viking Open on Saturday, March 24.
The team consisting of sophomore Jay Graffagna (Geneva HS, LaFox, Ill.), junior Greg Patton (Bloomington HS, Bloomington, Ill.), freshman Keith Cline (Byron HS, Byron, Ill.), and junior Alex Rindone (Marmion Academy, Geneva, Ill.) recorded a time 41.66 seconds to take second place this past weekend. That time is currently the third fastest in the nation.
Rindone and Patton both return from last year's CCIW outdoor champion 400 and 1600 meter relays. Graffagna joined them on the 400 meter relay team that set a new CCIW conference meet record when they recorded a time of 41.30 seconds. Cline was a key contributor to a successful indoor season this past winter in his first season of varsity action.
Graffagna, a computer science major, is the son of Jeff and Janis of Lafox, Illinois. Cline is a pre-medicine major and the son of Russull and Dyanne Cline of Byron, Illinois. Patton, who is studying accounting and political science, is the son of Greg and Eunice Patton of Bloomington, Illinois. Rindone is the son of Paul and Jill Rindone and is studying business marketing and communications.