March 25, 2012
2011-12 Season - Reece closes in on 100 wins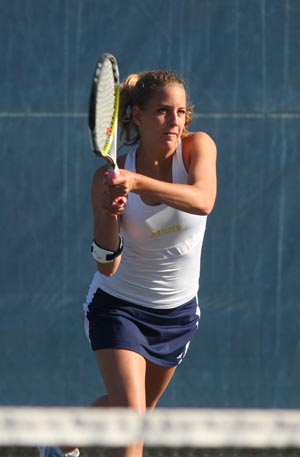 Brittany Reece won at singles and doubles in Augustana's 8-1 victory over St. Ambrose on Sunday, March 25. She now has 99 career victories for the Vikings.
ROCK ISLAND, Ill. - Senior Brittany Reece (Neuqua Valley HS, Naperville, Ill.) moved to within a single match of entering the 100 victory club at Augustana as she helped lead the Vikings to an 8-1 win over St. Ambrose on Sunday, March 25 at home. Reece won both her singles and doubles matches as Augustana defeated the Queen Bees for the fifth straight time and the ninth time in the last 10 meetings between the two Quad City rivals.
She beat Adrianne Foley 6-2; 6-7; 10-6 at number one singles and then teamed with junior Krista Panko (Geneva HS, Geneva, Ill.) for an 8-2 win over Heather Matejka and Mary Olson at number two doubles. Reece now has a total of 99 career victories during her career. She has 44 wins in singles and 55 in doubles. With her next victory she will become the 18th player in Augustana history to eclipse the 100 victory mark. The last person to do it was Tricia Sapio, who graduated in 2011 and finished with 101 wins.
The Vikings swept the doubles competition over St. Ambrose. While Reece and Panko were winning at number two, sophomore Kim Sawyer (Batavia HS, Batavia, Ill.) and junior Meghan Wethington (Geneseo HS, Geneseo, Ill.) beat Amanda Gomez and Adrianne Foley 8-4 at number one. Freshman Miranda Pence (Oswego HS, Oswego, Ill.) and sophomore Emily Kaczmarek (Glenbard South HS, Lombard, Ill.) combined at number three doubles to beat Sue Kapinus and Samantha Rochkus 8-0.
Sawyer beat Gomez 6-2; 6-2 at number one singles to move to 22-6 on the year. Wethington took care of Karissa Kalous at number four by a score of 6-1; 6-2. Sophomore Katie Scharnagle (Wheaton St. Francis HS, Lisle, Ill.) defeated Rochkus 6-2; 6-2 at number five and sophomore Mariah Bardo (Sterling HS, Sterling, Ill.) won over Mary Emily Turner at number six 6-2; 6-0. Bardo is now 15-8 overall.
Augustana 8, St. Ambrose 1
Mar 25, 2012 at Madison, WI
Singles competition
1. Sawyer, Kim (AUGIE) def. Gomez, Amanda (STAMBROS) 6-2, 6-2
2. Reece, Brittany (AUGIE) def. Foley, Adrianne (STAMBROS) 6-2, 6-7, 10-6
3. Matejka, Heather (STAMBROS) def. Panko, Krista (AUGIE) 6-0, 2-6, 10-8
4. Wethington, Meghan (AUGIE) def. Kalous, Karissa (STAMBROS) 6-1, 6-2
5. Scharnagle, Katie (AUGIE) def. Rochkus, Sam (STAMBROS) 6-2, 6-2
6. Bardo, Mariah (AUGIE) def. Turner, Mary Emily (STAMBROS) 6-2, 6-0
Doubles competition
1. Sawyer, Kim/Wethington, Meghan (AUGIE) def. Gomez, Amanda/Foley, Adrianne (STAMBROS) 8-4
2. Reece, Brittany/Panko, Krista (AUGIE) def. Matejka, Heather/Olson (STAMBROS) 8-2
3. Pence, Miranda/Kaczmarek, Emily (AUGIE) def. Kapinus/Rochkus, Sam (STAMBROS) 8-0
Match Notes
Augustana 11-9