March 25, 2012
2012 Season - Vikings drop a pair on 2nd day in St. Louis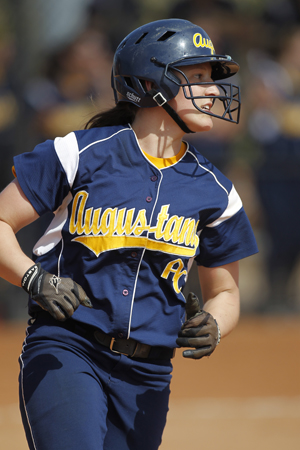 Sophomore Krista Watson drove in Augustana's only run Sunday as the Vikings dropped a pair of games in St. Louis, Missouri. They fell 5-1 to Central and 4-0 to Washington University.
ST. LOUIS, Missouri-A four-run fifth inning did Augustana in Sunday as the Vikings dropped a 5-1 decision to Central at the Washington University softball tournament. In the Vikings' second game of the day, the host Bears rode the two-hit pitching of Olivia Cook to a 4-0 win. Augustana is now 10-4 on the season.
CENTRAL 5, AUGUSTANA 1
Augustana took a 1-0 lead in the top of the first against Central. With two outs, Courtney Ledezma (United Township HS, East Moline, Ill.), Christie Wiersema (Morrison HS, Morrison, Ill.) and Krista Watson (Coal City HS, Coal City, Ill.) strung together three straight hits with Ledezma coming home on Watson's single to center.
Viking starter Sarah Hintz (LeRoy HS, LeRoy, Ill.) cruised through the first four innings, allowing just an infield hit and a hit batter as she protected the narrow lead.
After Augustana left two runners stranded in the top of the fifth, Hintz ran into trouble in the bottom half. Annie Sarcone tied the game with a leadoff home run and the next two batters reached as well before Ledezma came on in relief. After a bunt single and an Augustana error, Holly Von Fumetti capped the inning with a two-run double to left center.
Central's Caitlyn Meyer added a solo home run in the sixth to account for the final score. Hintz suffered her first loss of the season after seven straight wins and Dutch reliever Mallory Schulenberg threw the final 2 2/3 innings to pick up her seventh win in as many decisions. Central improved its record to 17-2 this season.
WASHINGTON 4, AUGUSTANA 0
Cook was the story in the Vikings' second game of the day. She went the full seven innings, allowing just a pair of singles and one walk.
The only real threat Augustana mustered came in the top of the sixth. Trailing 4-0, freshman Laura Behnke (Wheaton St. Francis HS, Roselle, Ill.) delivered a two-out single to right. Senior Dawn Kernich (Mt. Olive HS, Mt. Olive, Ill.) followed with an infield hit and the two worked the double steal to move to second and third. However, Cook was able to get Ledezma to ground out to end the inning.
The Bears scored all of their runs off Viking starter Ashley Yaros (Stagg HS, Palos Hills, Ill.) in the third. Stacy Berg started things with a one-out double to right center. Three straight singles produced two runs and another came home on an Augustana miscue. The final run scored on an Adrienne White sacrifice fly and Cook would have all the offense she needed.
A bright spot for the Vikings was sophomore Jamie Rehmert (Sterling HS, Sterling, Ill.), who came on in relief of Yaros and threw 3 2/3 scoreless innings.
Next up for Augustana is a doubleheader against St. Ambrose at Carver Field on Wednesday, March 28. First pitch is scheduled for 4:00 p.m.