March 25, 2012
2012 Season - Vikings drop home opener to Aurora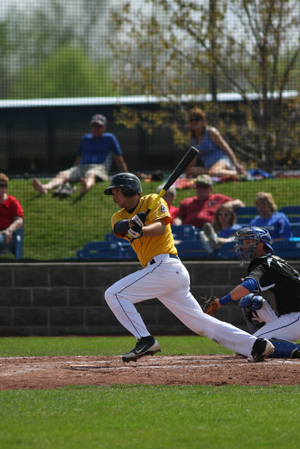 Sophomore outfielder Jacob VanDuyne had three hits Sunday, but the Vikings fell 2-1 to Aurora in their 2012 home opener.
MOLINE, Ill.-Mike Foley's two-run homer in the top of the fourth inning was all the offense Aurora would need Sunday as it handed 24th-ranked Augustana a 2-1 defeat in the Vikings' 2012 home opener. Augustana falls to 11-3 on the year.
The Vikings had a chance to tie it in the bottom of the ninth. Kevin Serna (Rolling Meadows HS, Arlington Heights, Ill.) knocked out Spartan starter Drew Gay with a lead-off single to center, but after Augustana failed to move him over, he was cut down stealing by Aurora catcher Ryan Payne to end the game.
The hosts took an early 1-0 lead when Kurt Schmidt (Grayslake Central HS, Grayslake, Ill.) hammered a two-out double to center in the bottom of the first. He came around to score on Mike Barker's (Centennial, Colo. Grandview HS, Marina del Rey, Cal.) RBI single to right.
Viking starter Jared McIntosh (Assumption HS, Davenport, Iowa), who left a runner stranded at third in the top of the first, marooned another Spartan in the second and two more in the third before Cory Walden led off the fourth with a single to right. Foley followed with a long home run to right for a 2-1 Aurora lead.
McIntosh benefited from double plays in both the fifth and sixth innings before yielding to reliever Mike Trotta (Notre Dame HS, Chicago, Ill.) to start the seventh. McIntosh allowed seven hits and one walk while fanning four in six innings and was the tough-luck loser, dropping to 1-1 on the year. Trotta allowed just one hit in three scoreless innings.
Meanwhile, Gay cruised through his eight-plus inning stint and improved to 2-0 this season. Augustana stranded two runners each in the fourth and fifth innings and Joe Cecchi (Romeoville HS, Romeoville, Ill.) was left at second after his two-out double in the eighth. The Vikings managed eight hits, six of which were singles, including three by sophomore right fielder Jacob VanDuyne (Wilmington HS, Wilmington, Ill.). Aurora reliever Chris Skiniotes finished the ninth inning for his third save.
The Vikings host Monmouth on Wednesday, March 28 at 6:00 p.m. at Swanson Stadium/Brunner Field.