March 25, 2012
2011-12 Season - Dickman, Kargl lead Vikings past Siena Heights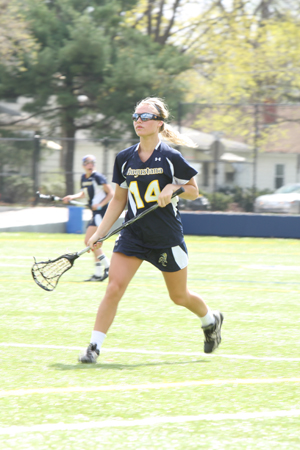 Freshman Hannah Dickman scored three goals and had four assists Sunday as Augustana defeated Siena Heights 19-4 at Thorson-Lucken
ROCK ISLAND, Ill. - Freshmen Hannah Dickman (Stillwater Area HS, Stillwater, Minn.) and Hilary Kargl (Sacred Heart Academy, Louisville, Ky.) contributed seven and six points, respectively, Sunday to help lead Augustana to a 19-4 win over Siena Heights at Thorson-Lucken Field. Dickman had three goals and four assists, while Kargl scored four goals and had two assists as the Vikings improved to 8-3 on the year.
Dickman scored a free position goal just 16 seconds in to give Augustana an early lead. Slightly more than a minute later, Christian Letmanksi (Glenbard West HS, Wheaton, Ill.) added a free position goal to make it 2-0. Kargl scored her first goal of the game at the 20:09 mark of the first half to put the Vikings up 6-0 before they slowed the pace of play.
Allie Roehrenbeck's (Columbus Academy, Gahanna, Ohio) second goal of the day made it 7-0 at the 14:59 mark of the opening period. Mackenzy Hickner got the Saints on the board with her second goal of the season with 5:00 left in the half. Dickman, Kate Zisser (Kirkwood HS, St. Louis, Mo.), Kargl and Roehrenbeck answered with goals before halftime to give Augustana an 11-1 advantage at intermission.
The Vikings worked on ball movement and balance in the second half, getting eight goals from seven different players to salt away the win.
Freshman Kelly Stelzer (Wheaton Warrenville South HS, Wheaton, Ill.), usually an attacker, logged 12 minutes in goal for Augustana, stopping three of four shots she faced. It was the first time this season anyone but Sarah Osier (Naperville Central HS, Naperville, Ill.) had seen time in goal for Vikings.
10 different Augustana players scored a goal in the contest and the Vikings recorded assists on 11 of their 19 goals. They outshot Siena Heights 34-7, collected 27 ground balls to eight for the visitors and had a 19-6 advantage in draw controls.
Next up is a pair of home contests against Missouri Baptist and Robert Morris. Those games will be played at 10:00 a.m. and 2:00 p.m., respectively on Saturday, March 31 at Thorson-Lucken Field.