March 24, 2012
2012 Season - Six event winners for men at Viking Open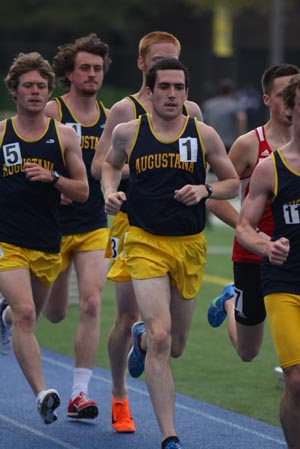 Junior Brian Pollastrini won the 3000 in a time of 8:36.89 at the Viking Open on Saturday, March 24 at Paul V. Olsen Track. Pollastrini was one of six event winners for Augustana in the meet.
ROCK ISLAND, Ill. - Blessed by uncommonly pleasant weather, Augustana placed a solid second at the Viking Open on Saturday, March 24 at Paul V. Olsen Track. It was the meet of the 2012 outdoor season and the Vikings of veteran head coach Paul Olsen won a total of six events en route to scoring 233 points in the 10 team meet.
Wisconsin-Whitewater won the event with 251.5 points with Augustana finishing just 18.5 points behind and well out in front of third place Central of Iowa's 125 points. Ashford was fourth with 70 and College of Dupage took fifth with 65. St. Ambrose (58), Judson (35.5), Aurora (29), Beloit (18) and Northern Illinois (14) rounded out the field.
The Vikings won three running events and three field events. Junior Alex Rindone (Marmion Academy, Geneva, Ill.) ripped off a time of :10.89 to win the 100. Freshman David Voland (Batavia HS, Batavia, Ill.) ran a time of :54.12 to claim the 400 intermediate hurdles and junior Brian Pollastrini (York HS, Elmhurst, Ill.) won the 3000 in 8:36.89. Those three events accounted for the victories on the track.
Senior Phil Christensen (Kaneland HS, Maple Park, Ill.) won the discus with a toss of 160' 9" and senior Adam Myers (Dixon HS, Dixon, Ill.) took the hammer in 184' 10". Freshman Torre Harrell (Bloomington HS, Bloomington, Ill.) placed first in the long jump with a leap of 22' 9 ¾".
All three relays finished second. The 3200 relay unit ran 7:52.55 while the 400 team clocked a time of :41.66. The 1600 squad was runner-up with a time of 3:18.53. Freshman Keith Cline (Byron HS, Byron, Ill.) placed second in the 200 in :22.22.
Junior Kyle McNicholas (Carl Sandburg HS, Orland Park, Ill.) was third in the 3000 steeplechase with a time of 10:42.80. Junior Jonathan Smith (Moline HS, Moline, Ill.) finished third in the 3000 in 8:42.40 while seniors Matt Bowman (Geneva HS, Geneva, Ill.) and Billy TenBusch (Prairie Ridge HS, Crystal Lake, Ill.) were fourth and fifth with times of 8:44.02 and 8:48.73 respectively.
Three Vikings finished in the top five of the 800 with junior Edgar Valle (Kaneland HS, Elburn, Ill.) leading the way with a third place time of 1:55.33. Junior Justin Smith (Fenton HS, Bensenville, Ill.) took fourth in 1:56.13 and sophomore Steve Zahrobsky (Downers Grove South HS, Woodridge, Ill.) was fifth at 1:57.02.
Senior Greg Davis (Carlinville HS, Carlinville, Ill.) was fourth in both the 110 high hurdles (:15.19) and 400 intermediate hurdles (:55.46). Freshman Alex Odenkirk (Ironwood Ridge HS, Tucson, Ariz.) was fourth in the 1500 in 4:02.85 and sophomore Justin Davidson (Galesburg HS, Galesburg, Ill.) took fourth in the high jump with a clearance of 6' 1 ¼".
Freshman David Devore (Midland HS, Midland, Mich.) was fifth in both the 100 (:11.22) and 200 (:23.48). Junior Ethan Gale (Oregon HS, Oregon, Ill.) cleared 13' 3 ½" to take fifth in the pole vault and freshman Kyle Bennett (Davenport West HS, Davenport, Iowa) was fifth in the 400 intermediate hurdles in :56.55.
Augustana will be in action again on Friday, March 30 and Saturday, March 31 when it hosts the Viking Olympics.