March 24, 2012
2011-12 Season - Pape posts shutout in win over MSOE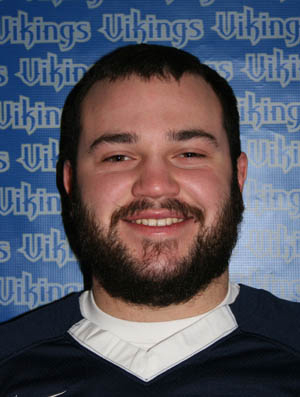 Freshman goalkeeper Jon Pape posted a shutout in his first start of the season Saturday, helping Augustana to a 15-0 win over Milwaukee School of Engineering at Thorson-Lucken Field
ROCK ISLAND, Ill.-Freshman goalkeeper Jon Pape (Hoffman Estates HS, Hoffman Estates, Ill.) went the distance in goal Saturday and recorded a shutout as Augustana improved to 6-3 on the year with a 15-0 win over Milwaukee School of Engineering at Thorson-Lucken Field. Pape recorded six saves and Jesse Nagelberg (St. Charles East HS, St. Charles, Ill.) led the Vikings offensively with five goals.
Nagelberg scored the game's first goal a minute and a half in and added another at the 8:21 mark of the first quarter. The second goal came on an assist from Doug Barrie (Lake Forest HS, Lake Forest, Ill.) and with Augustana a man up. Nagelberg added another score in the first quarter along with goals from J.G. Saunders (The Calvert School, Aquasco, Md.), Colin Haley (St. Charles East HS, St. Charles, Ill.) and Tim Fennelly (Littleton HS, Centennial, Colo.) as the Vikings took a 6-0 lead after one period.
The lead ballooned to 12-0 at intermission. Barrie scored three times in the second period, Haley and Chris Hager (Exeter Academy, Newfields, N.H.) once each and Nagelberg added his fourth of the game.
In the third period, Nagelberg found the net for the fifth time on the day and team-leading 26th time this season and Ryan Nakamoto (Naperville Central HS, Naperville, Ill.) and Saunders also scored before the Vikings slowed the pace in a scoreless fourth quarter to preserve the win.
Pape got the win in his first start of the season and is still unscored upon in almost 108 minutes of action this year.
Freshman midfielder Harrison Wetzel (Culver Academy, Clemson, S.C.) led the Vikings with six grounds balls. Freshman defender Andrew Jurewicz (St. Charles East HS, St. Charles, Ill.) caused three turnovers, while sophomore Andrew Kapustka (Taft HS, Chicago, Ill.) won five of eight faceoffs and Saunders three of three.
The hosts got the better of it statistically, with a 36-16 edge in shots and a 34-24 advantage in ground balls. Augustana committed 22 turnovers to 30 for the visitors and won 10 of 18 faceoffs.
Aurora visits Thorson-Lucken Field on Wednesday, March 28 at 7:00 p.m.