March 24, 2012
2011-12 Season - Vikings defeat Concordia 23-4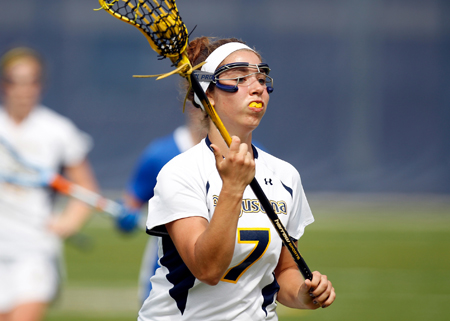 Freshman Christina Letmanski scored six goals and added a pair of assists Saturday to help lead the Vikings to a 23-4 win over Concordia (Wis.) at Thorson-Lucken Field.
ROCK ISLAND, Ill. - Freshmen Christina Letmanski (Glenbard West HS, Wheaton, Ill.) and Hilary Kargl (Sacred Heart Academy, Louisville, Ky.) each had six goals and two assists Saturday to lead Augustana to a 23-4 win over Concordia (Wis.) at Thorson-Lucken Field. The Vikings are now 7-3 in their first season of varsity lacrosse, while Concordia falls to 0-3.
In addition to Letmanski and Kargl, Augustana freshman Hannah Dickman (Stillwater Area HS, Stillwater, Minn.) also had a big day offensively, with four goals and a team-high three assists.
Alina Zibutis gave the visitors an early lead, scoring off a Sammi Reiter assist less than two minutes in. The Vikings responded with the next four goals, including two by Dickman and one by Gina Filippo (Libertyville HS, Libertyville, Ill.) on which Dickman assisted. Reiter scored an unassisted goal at the 22:36 mark of the first half to cut the Augustana lead to 4-2.
Kargl, who started the week seventh in the nation in scoring, found the net for the first time in the contest at the 19:50 mark of the first half. Dickman and Letmanski followed with goals before Reiter got the Falcons on the board again, cutting the Viking advantage to 7-3. However, Augustana responded with the final six goals of the half to take a 13-3 lead.
Kargl had the Vikings' final two goals of the opening period and scored the first goal of the second half just a minute in. She added two more later in the game to push her season total to 56 on the year. Letmanski scored three times in the second half as well and is now tied with Dickman for second on the team with 25 goals this year.
After Reiter made it 15-4 with her third goal of the game at the 25:37 mark, the Vikings scored the last eight goals to account for the final.
Augustana outshot the Falcons by a 52-14 margin and held advantages of 19-9 in ground balls and 16-12 in draw controls. Viking goalkeeper Sarah Osier (Naperville Central HS, Naperville, Ill.) recorded seven saves, while her counterpart for the Falcons, Becca David, stopped 20 Augustana shots. Freshman midfielder Emily Pavlik (Lyons Township HS, LaGrange, Ill.) not only scored her eighth goal of the season, but recorded team highs of five ground balls, four draw controls and four caused turnovers.
Coach Sara Tisdale's Vikings are back in action on Sunday, March 25 at noon, hosting Siena Heights, an NAIA program out of Adrian, Michigan.