March 21, 2012
2011-12 Season - Voiles, Rorer share MVP award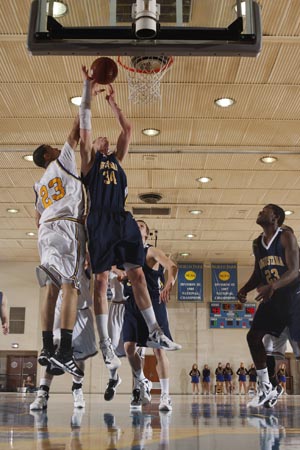 Seniors Bryant Voiles (34) and Troy Rorer (right) shared the Most Valuable Player award for the 2011-12 men's basketball team.
ROCK ISLAND, Ill.—Senior captains Troy Rorer (Bettendorf HS, Bettendorf, Iowa) and Bryant Voiles (Byron HS, Byron, Ill.) have been chosen as Co-Most Valuable Players for the 2011-12 Augustana men's basketball team. Rorer was also selected as the Best Defensive Player for the 19-7 Vikings, while Voiles added Best Rebounder honors.
The 6' 9" Voiles, who was also Augustana's MVP a year ago, led the Vikings in scoring as well as rebounding this year. He averaged 14.2 points and 7.2 boards per game and was the team's top free throw shooter at .830 (117 of 141). In addition, he tied for the team lead with 36 three-point field goals. He finished his career at Augustana with 881 points and 460 rebounds, ranking 36th and 25th respectively on the school's career lists. His 112 career three-point field goals are 10th-best in school history as are his 48 blocked shots. He ranks 16th in career three-point percentage (.385), free throws made (237) and free throws attempted (315) and is in the top 50 in games played (84), free throw percentage (.752) and assists (131) as well.
In addition to earning Co-MVP honors, Rorer is a repeat selection as the Vikings' top defender. The 6' 2" guard led the team in minutes played (741) and was second on the team in scoring (11.2 ppg), assists (66) and steals (25) this season. He also averaged 4.1 rebounds per game and finished his career ranking in the school's top 50 in games played (88), assists (188), steals (83), three-pointers (48), free throw attempts (251), blocked shots (18), rebounds (331) and made free throws (147).
Both Voiles and Rorer were second team All-CCIW selections this year. Voiles repeated as a second team pick.
6' 8" sophomore center Kevin Schlitter (Maine South HS, Park Ridge, Ill.) averaged a double-double at the junior varsity level to win JV Most Valuable Player honors for the second straight year. He made six starts and averaged 5.0 points per game on .589 field goal shooting with the varsity.
2011-12 AUGUSTANA VIKINGS BASKETBALL LETTERWINNERS
| | | | | | |
| --- | --- | --- | --- | --- | --- |
| NAME | POS | HT | WT | YR | HOMETOWN/HIGH SCHOOL |
| Chris Anderson*** | G | 6-4 | 193 | Sr | Mount Carroll, Ill./West Carroll |
| Sam Calcagno* | G | 5-9 | 143 | So | Rochester, Minn./Mayo |
| Brian DeSimone**** (C) | G | 6-1 | 190 | Sr | Wheeling, Ill./Buffalo Grove |
| George Dexter*** | F | 6-7 | 200 | Jr | Bettendorf, Iowa/HS |
| Griffin Dwyer** | G | 6-1 | 186 | Sr | Arlington Heights, Ill./Hersey |
| Danielius Jurgutis* | G | 6-0 | 203 | Fr | Darien, Ill./Downers Grove South |
| Brandon Kunz*** | C | 6-7 | 220 | Jr | Lake Zurich, Ill./HS |
| Austin Lusson* | G | 6-2 | 161 | So | LaGrange, Ill./Lyons Township |
| Kameron Norton*** | C | 6-7 | 217 | Jr | Downers Grove, Ill./North |
| Mark Roth* | G | 6-0 | 160 | Fr | Metamora, Ill./Washington |
| Troy Rorer*** (C) | G | 6-2 | 195 | Sr | Bettendorf, Iowa/HS |
| Kevin Schlitter* | C | 6-8 | 275 | So | Park Ridge, Ill./Maine South |
| Bryant Voiles*** (C) | F | 6-9 | 209 | Sr | Byron, Ill./HS |
| Kevin Waibel** | C | 6-7 | 233 | Jr | Morton, Ill./HS |
*- Denotes letters won
(C) – Denotes captains
HEAD COACH: Grey Giovanine
ASSISTANT COACHES: Tom Jessee, Rick Harrigan, Dallas Duwa