March 21, 2012
2012 Season - Jones wins MVP honors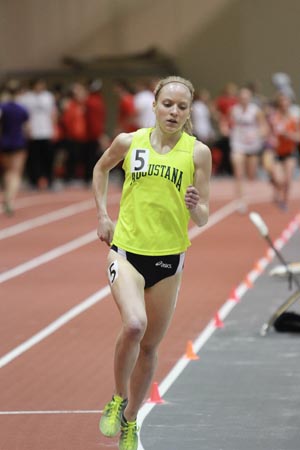 Junior Sarahbeth Jones was named the Vikings MVP for the 2012 indoor season.
Rock Island, Ill. – Junior Sarahbeth Jones (Warrant Township HS, Wadsworth, Ill.) was named the Most Valuable Performer for Augustana during the recently concluded indoor portion of the 2012 track & field season. Veteran head coach Fred Whiteside's Vikings featured a total of 40 letter winners.
Jones capped off a superb season by capturing the College Conference of Illinois and Wisconsin (CCIW) championship in the 3,000 meters in a time of 10:21.38 at the conference meet on February 25 at North Central College in Naperville,Ill. She also anchored the Vikings distance medley relay to victory in a school record time of 12:13.73, and finished third in the mile in 5:01. Jones now ranks second on both Augustana's all-time indoor mile list of performers and the school's indoor 3,000 meter list. The junior opens the outdoor campaign as a two time all-conference performer in the 800.
Jessica Bacon (Rock Island HS, Rock Island, Ill.) and Astin Moravek (Riverside Brookfield HS, Riverside, Ill.) shared the Most Valuable Freshman honor. Moravek paced the Vikings in the long jump with a leap of 16'1" while also contributing in the triple jump. Bacon was a consistent middle distance contributor, and had the fastest 1,000 meter time indoors, with a clocking of 3:03.42
The Erica Vortman Viking Spirit Award was won by senior captains Morgan Gale (Oregon HS, Oregon, Ill.), and Melissa Lehpamer (Plainfield South, Plainfield, Ill.). They shared the award with junior Jen Prazak (Naperville North, Naperville, Ill.) and sophomore Kate Benge (Pleasant Valley HS, Bettendorf, Iowa).
Last year, Whiteside announced that the award for most improved athlete will be renamed the "Susan Wall Most Improved Award". Wall was a 1992 graduate who came to Augustana during the 1988-89 school year and ran 23:45 for 5,000 meters as a freshman. Eventually she recorded a career best of 18:25 and was an Illinois Small College state champion in cross country and won the 3000 in the 1990 CCIW conference meet. She passed away suddenly in February, 2011. Senior Sarah Johnson (Grayslake North HS, Lake Villa, Ill.), juniors Annie Heifner (Oregon HS, Oregon, Wis.) and Jen Prazak, and sophomore Julia Popp (Boylan Catholic, Belvidere, Ill.) all shared the 2012 award.
Augustana finished the 2012 indoor season with a sixth place finish in the CCIW meet. The Vikings finished third at the Illinois College Invitational, and second at the Dubuque Invitational.
2012 AUGUSTANA VIKINGS TRACK & FIELD INDOOR LETTERWINNERS
NAME

YR

EVENT

HOMETOWN/HIGH SCHOOL

Jessica Bacon*

Fr

Mid Distance

Rock Island, Ill./HS

Melanie Battistoni ***

Sr

Discus – Hammer

Elmhurst, Ill./York

Samantha Bazely ***

Jr

Long Jump – Triple Jump

Coal Valley, Ill./Alleman

Liana Beauchamp **

So

Hammer – Shot

Kingston, Ill./Genoa-Kingston

Kate Benge*

So

Sprints – Mid Distance

Bettendorf, Iowa/Pleasant Valley

Veronica Bertellotti*

Fr

Triple Jump – Sprints

Mount Prospect, Ill./Prospect

Kris Bowen*

Fr

Mid Distance

Elburn, Ill./Kaneland

Stephanie Burbidge*

Fr

Mid Distance

Palatine, Ill./HS

Britton Dallas*

So

Mid Distance

Indianapolis, Ind./International School of IN

Catherine Foreman ****

Sr

Javelin – Sprints

Saint Joseph, Ill./HS

Morgan Gale **** (C)

Sr

Pole Vault – Sprints

Oregon, Ill./HS

Emma Grandgeorge **

So

Distance

Sycamore, Ill./HS

Amber Gruber *** *(C)

Sr

Discus – Hammer – Shot

Arlington Heights, Ill./Rolling Meadows

Annie Heifner ***

Jr

Mid Distance – Steeple

Oregon, Wis./HS

Taelar Hillyer*

So

Pole Vault

Bettendorf, Iowa/Alleman

Hailey Jacobs*

Fr

Mid Distance

Woodstock, Ill./HS

Sarah Johnson ****

Sr

Steeplechase

Lake Villa, Ill./Grayslake North

Sarahbeth Jones ***

Jr

Mid Distance

Wadsworth, Ill./Warren Township

Rachel Kelly*

Fr

Distance

Downers Grove, Ill./South

Rachael Latham ***

Sr

Sprints

Elgin, Ill./Burlington Central

Melissa Lehpamer **** (C)

Sr

Mid Distance

Plainfield, Ill./South

Lizzie Lundine*

Fr

Distance

Villa Park, Ill./Willowbrook

Jordan Mauerman ***

Jr

Javelin

Albany, Wis./HS

Krista McCurrie*

Fr

Sprints – Mid Distance

Palos Park, Ill./Amos Alonso Stagg

Kerri McGrail*

Fr

Distance

Plainfield, Ill./North

Taylor Mills*

Fr

Sprints – Long Jump

Glen Ellyn, Ill./Glenbard South

Kelsey Moon**

So

Mid Distance

Wauconda, Ill./Mundelein

Astin Moravek*

Fr

Triple Jump

Riverside, Ill./Riverside – Brookfield

Allison Nagy*

So

Sprints

Naperville, Ill./Neuqua Valley

Amanda Pease* *

So

Steeplechase

East Moline, Ill./United Township

Laura Polizzi*

Fr

Triple Jump

Crystal Lake, Ill./South

Julia Popp **

So

Heptathlon

Belvidere, Ill./Boylan Catholic

Jennifer Prazak ***

Jr

Mid Distance

Naperville, Ill./North

Amanda Rodriguez **

Jr

Distance

Mahomet, Ill./Mahomet-Seymour

Johanna Schnitzler **

So

Heptathlon

Woodridge, Ill./Downers Grove South

Bethany Siwek ***

Jr

Hammer – Discus – Shot

Woodstock, Ill./HS

Kierra Smith **

So

Hurdles

Creston, Iowa/HS

Lorraine Stamberger*

Fr

Mid Distance

La Moille, Ill./HS

Becca Sund*

Fr

Mid Distance

Palatine, Ill./HS

Taylor Tjardes ***

Jr

Pole Vault – Javelin

Gibson City, Ill./Gibson City–Melvin-Sibley