Five Questions for: Dr. Jane Simonsen
March  21, 2012
Five Questions is a series of profiles of people at Augustana College. Dr. Jane Simonsen delivers the answers today. If you know someone you'd like to see profiled, send his or her name and a note to sharenews@augustana.edu.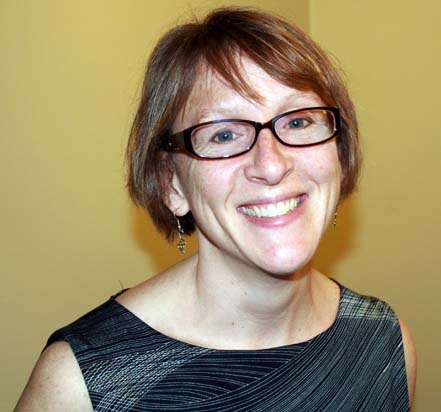 Dr. Jane Simonsen, Augustana associate professor of history. (Photo/Scott Cason)

Dr. Jane Simonsen is an associate professor of history specializing in U.S. women's history, gender studies and Native American studies. She received a Ph.D. in American studies from the University of Iowa in 2001 and has been a member of the history department at Augustana since 2006.
She teaches survey courses in American history and upper level courses on the history of marriage and on American women's history. She also teaches courses in the women's and gender studies programs as well as in the first-year liberal studies program and honors program. Dr. Simonsen is the coordinator of women's and gender studies.
1. In your book, Making Home Work: Domesticity and Native American Assimilation in the American West, 1860-1920, you describe the challenges white women reformers faced in their attempts to help Native American women assimilate and take on women's roles that were more like those in white families. What were some of those challenges?
Single women on a quest to improve the lives of others in the American West were not terribly welcomed either by Native Americans or the Western ranchers they encountered. For the most part, Native American women were not terribly interested in being assimilated. At best, they tended to be interested in learning only what they could best use to ensure their cultural and economic survival. The practice of quilting, taught as a domestic activity, became quilting for profit for many Native American women. Projects change when you discover new things, and this was especially true in the experiences of these white women as they struggled to understand the perspectives of the Native Americans they encountered.
2. You contributed a narrative on the photographs of Alexander Gardner to the book titled Recovering the Prairie. Most people remember Gardner for his work as a combat photographer in the Civil War. What did Gardner see in prairie settings that others didn't?
Gardner saw the almost hidden beauty in land that others viewed mostly as monotonous stretches of rolling grasslands. What made his work special was how he integrated the prairie and railroad imagery. Gardner saw the railroad as a metaphor for the unification of our vast country. He also thought the railroads were an example of man's triumph over time and space.
3. Stories involving gender and identity have dominated the headlines over the past few weeks. Describe the elements you see as essential to foster a thoughtful public dialogue on these issues.
People need to understand how things look from other perspectives. Our perspectives evolve from generalizations we base on what are often very personal experiences. To really have a meaningful conversation about power issues like abortion, I try and create what I call a scaffold around the issue that helps students see things from a number of perspectives and personal experiences. This scaffolding includes an analysis of the social and economic conditions that lead to abortion. We never attack anybody's values. Some students do begin to see the issues differently, or more clearly and in a way that doesn't always challenge their core values. They might also find that seemingly incompatible values really aren't incompatible.
4. Your office in Old Main is due for some significant summer renovation. What do you look forward to at the end of the renovation process and what do you hope is not lost from the old Old Main?
I expect this building to become more energy efficient and environmentally friendly. This is a great building for history majors. History majors like a connection with historic things. I hope some of the ambiance of Cable Hall with its old tables, chairs, flooring and art can be retained. The biggest thing I hope we see is better gathering spaces. The Hanson Hall of Science has great gathering spaces that connect students and faculty. There is great value in even accidental meeting opportunities, and I hope our renovated Old Main provides plenty of places to gather.
5. If you hadn't become a college professor, what do you think you would have done?
I first wanted to become a creative writer, but when I was an undergraduate, a professor told me I was probably a better analytical writer. Truth be told, what I would really like to be is a Muppeteer — maybe a singing tomato in a Muppet chorus. My students have picked up on my use of funny voices in class, so I guess I will always have an outlet for this kind of creative energy.
Five Questions recently has featured: