March 20, 2012
2011-12 Season - 2011-12 WRESTLING REVIEW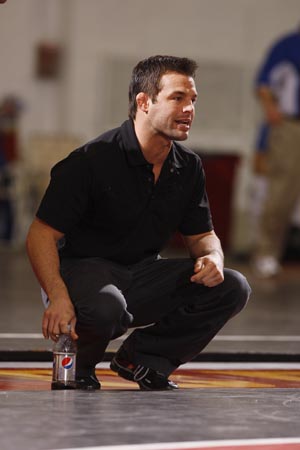 Eric Juergens, in his fifth year as the head wrestling coach, led the Vikings to an 11-4 dual meet record and a second place finish in the CCIW tournament in 2011-12.
Jordan Richardson becomes first Viking All-American in nine years; Richardson, Alberto Quiros & Matt Burns win CCIW championships and qualify for nationals; Richardson & Quiros share CCIW Most Outstanding Wrestler; Vikings finish 11-4 in dual meets for best record since 2002-03; finish 6th as a team at Great Lakes Regional and 36th at nationals
For the fifth consecutive season under head coach Eric Juergens, the Augustana wrestling team improved its dual meet record and regional finish in 2011-12. Behind sophomore All-American Jordan Richardson (Grandville HS, Wyoming, Mich.) and fellow College Conference of Illinois & Wisconsin champions senior Alberto Quiros (J. Sterling Morton HS, Cicero, Ill.) and junior Matt Burns (Naperville Central HS, Naperville, Ill.) , this year's Vikings went 11-4 in dual meet competition for their best record since the 2003-04 team went 15-5. The team's second-place finish in the CCIW was the program's best since Augustana won the conference title in 2004. Juergens' crew was sixth at the Great Lakes Regional and 36th at the national meet.
Richardson finished eighth in the 174-pound weight class at the NCAA Division III meet in La Crosse, Wisconsin to become the first Augustana wrestler to earn All-America status since Matt Kapraun in 2003. Quiros and Burns also qualified for the national meet. Burns knocked off the fifth seed at 165 pounds, but lost to the fourth and third seeds. Quiros was eliminated at 149 pounds on a pair of one-point decisions, including one to the eighth seed.
Although Richardson and Quiros shared Most Outstanding Wrestler honors at the CCIW meet held at Carver Center, Burns' title at 165 pounds may have been the most impressive. Seeded fourth, he handled top-seeded Mike Ryan of Elmhurst 7-2 in the semifinals before topping North Central's second-seeded Devin Milheim 16-5 in the final. Richardson, seeded second at 174, pinned North Central's Andrew Hiller and won the title with an 8-1 decision over top-seeded Danny Balderas of Elmhurst. Quiros was also seeded second at 149 and beat North Central's Eric Oyster 8-5 and Elmhurst's top-seeded Ryan Earley 6-5 for his championship. Augustana finished second in the team standings with 77 points. Elmhurst was the team champion with 101 points.
In addition, Richardson won the 184-pound title at the Knox Open in Galesburg, Illinois and the 174-pound championship at the Central Tournament in Pella, Iowa. Quiros was also a champion at Central—winning at 149 pounds—as was freshman John Schraidt (Riverside-Brookfield HS, Riverside, Ill.) , who bested the field at 285 pounds. Quiros' performance at Pella, which included five straight wins including two by fall, earned him CCIW Wrestler of the Week honors.
The team's dual meet ledger included wins over Knox (48-6), Central (21-10), Simpson (28-12), Loras (25-14), UW-Platteville (36-6), Hannibal-LaGrange (49-3), Trine (26-24), Chicago (22-18), Wheaton (26-15), Manchester (25-16) and Concordia (Wis.) (36-12). Its losses came to Elmhurst (27-12), Cornell (34-6), Luther (27-11) and North Central (27-18).
The Vikings finished fourth among 13 teams at the North Central Invitational on December 10 and 12th in a field of 31 teams at Wheaton's Pete Willson Invitational on January 28.
Individually, Richardson finished the season 38-11, putting him in a tie for 20th on Augustana's single-season wins list. Quiros ended his career with a 36-11 senior season. Junior Steve Poffenberger (Allegan HS, Paw Paw, Mich.) , the CCIW's 133-pound runner-up, fashioned a 30-13 record this year. Burns finished 28-17.
Schraidt (Riverside-Brookfield HS, Riverside, Ill.) led a trio of successful 285-pounders for the Vikings, finishing the year 26-9 and taking second place at the conference meet. Freshman John Seaman (Munster HS, Munster, Ind.) went 16-8 and sophomore Abe Duran (East Aurora HS, Aurora, Ill.) was 13-6.
Junior Hunter Feraco (Gull Lake HS, Battle Creek, Mich.) repeated as a CCIW third-place finisher at 197 pounds and finished the year with a 22-15 record. Junior 141-pounder Greg Gogonas (James Bowie HS, Austin, Texas) went 18-18 this year and was a runner-up in the CCIW. Freshman David Tessiatore (Downers Grove North HS, Downers Grove, Ill.) , who finished fourth in the conference at 157 pounds, posted a 13-21 record and classmate Seth Whan (Sherrard HS, Viola, Ill.) , CCIW runner-up at 184 pounds, was 12-18 this season
2012 COLLEGE CONFERENCE OF ILLINOIS & WISCONSIN TOURNAMENT
February 9, 2012 ***Caver Center*** Rock Island, Illinois
TEAM SCORES: 1. Elmhurst 101; 2. Augustana 77; 3. Wheaton 41; 4. North Central 38; 5. Millikin, North Park, Illinois Wesleyan and Carthage did not field teams.
INDIVIDUAL PLACE WINNERS
| | | | | |
| --- | --- | --- | --- | --- |
| WEIGHT CLASS | CHAMPION | SECOND | THIRD | FOURTH |
| 125 | Mark Johnson, Elmhurst | Tom Foy, Wheaton | | |
| 133 | Dalton Bullard, Elmhurst | STEVE POFFENBERGER, AUGUSTANA | Brayan Gonzalez, North Central | Caleb Cardenas, Wheaton |
| 141 | Jake Denhof, Elmhurst | GREG GOGONAS, AUGUSTANA | | |
| 149 | ALBERTO QUIROS, AUGUSTANA | Ryan Early, Elmhurst | Eric Oyster, North Central | Matt Cordell, Wheaton |
| 157 | Joby Bodi, North Central | Mike Grice, Elmhurst | Tim Savenok, Wheaton | DAVID TESSIATORE, AUGUSTANA |
| 165 | MATT BURNS, AUGUSTANA | Devin Milheim, North Central | Mike Ryan, Elmhurst | Peter Huang, Wheaton |
| 174 | JORDAN RICHARDSON, AUGUSTANA | Danny Balderas, Elmhurst | Andrew Hiller, North Central | Cameron Fox, Wheaton |
| 184 | Joe Rau, Elmhurst | SETH WHAN, AUGUSTANA | Johann Sarna, Wheaton | |
| 197 | Darren Faber, Wheaton | Danny Vargas, Elmhurst | HUNTER FERACO, AUGUSTANA | |
| 285 | Brian Brooks, Elmhurst | JOHN SCHRAIDT, AUGUSTANA | Kyle Patton, Wheaton | Chris James, North Central |
2011-12 AUGUSTANA WRESTLING SUPERLATIVES
NCAA DIVISION III ALL-AMERICAN – Jordan Richardson, 8th place @ 174 pounds; first since Matt Kapraun in 2003
NCAA DIVISION III NATIONAL MEET QUALIFIERS – Alberto Quiros @ 149 pounds; Matt Burns @ 165 pounds and Jordan Richardson @ 174 pounds
COLLEGE CONFERENCE OF ILLINOIS & WISCONSIN CO-MOST OUTSTANDING WRESTLERS – Alberto Quiros @ 149 pounds and Jordan Richardson @ 174 pounds
COLLEGE CONFERENCE OF ILLINOIS & WISCONSIN INDIVIDUAL CHAMPIONS – Alberto Quiros @ 149 pounds; Matt Burns @ 165 pounds and Jordan Richardson @ 174 pounds
KNOX OPEN CHAMPION (11/12/11) – Jordan Richardson @ 184 pounds
CENTRAL OF IOWA INVITATIONAL CHAMPION (01/14/12) – Alberto Quiros @ 149 pounds; Jordan Richardson @ 174 pounds and John Schraidt @ 285 pounds
ADDITION TO AUGUSTANA'S TOP 20 SINGLE SEASON VICTORY LIST – Jordan Richardson, tied for 20th with 38-11 record
CCIW WRESTLER OF THE WEEK – Alberto Quiros, 01/17/12
TEAM DUAL MEET RECORD – 11-4; best record since 2003-04
CCIW TEAM FINISH – Second with 77 points; highest finish and point total since 2004
MOST VALUABLE PERFORMER –
MOST IMPROVED WRESTLER –
HARDEST WORKER –
SACRIFICE AWARD –