March 19, 2012
2011-12 Season - 2011-12 MEN'S BASKETBALL REVIEW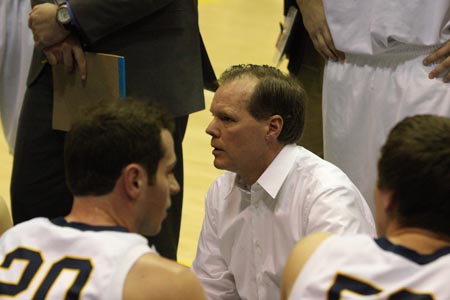 Veteran head coach Grey Giovanine led the Vikings to a 19-7 record in 2011-12 and Augustana qualified for the CCIW Tournament for the seventh straight season, the only team in the league to hold that distinction.
Vikings finish the year 19-7; spend one week atop the national poll; qualify for the CCIW tournament for the seventh straight season; Troy Rorer and Bryant Voiles named to All-CCIW second team
Augustana's men's basketball team completed an eventful 2011-12 season with a 19-7 record. The Vikings finished 9-5 in the College Conference of Illinois & Wisconsin, qualifying for the conference tournament for the seventh consecutive year.
The season got an early start with a November 3 exhibition date at Division I Valparaiso. Despite game highs of 25 points and six steals by senior Bryant Voiles (Byron HS, Byron, Ill.) , coach Grey Giovanine's Vikings fell by to the Crusaders by a score of 74-65. Valparaiso went on to win 22 games and a Horizon League regular season championship.
Augustana, ranked second in the nation in D3hoops.com's pre-season poll, opened the regular season with impressive home wins over Aurora (102-68) and St. Norbert (79-48). An 80-72 win at Wisconsin-Oshkosh, combined with a loss by top-ranked Virginia Wesleyan, vaulted the Vikings to a number one national ranking for the first time since 1982. The same day the poll came out, Voiles exploded for 38 points and 10 rebounds in an 83-75 win at rival St. Ambrose.
The team traveled to St. Louis, Missouri to compete in Washington University's Lopata Classic where it took care of Wisconsin Lutheran 74-46 in the semifinals, but fell to the host Bears 71-68 in the finals.
The Vikings closed the non-conference portion of the schedule with five straight wins to improve to 10-1. Included in that run was a 69-64 home win over 21st-ranked Wisconsin-Stevens Point as well as impressive victories over the University of Chicago (93-52) and MacMurray (96-53). The Vikings hit a school-record 15 three-point field goals in the win over the Highlanders.
After opening the CCIW portion of the schedule with a 64-39 win at Millikin, Augustana dropped consecutive contests against North Central (67-62) at home and Illinois Wesleyan (73-63) and Elmhurst (56-55) on the road. In the latter, the Bluejays' Zack Boyd hit a game-winning 20-footer at the buzzer that might ultimately have cost the Vikings an NCAA tournament berth.
Giovanine's crew used a stretch of five straight games at Carver Center to get back on track, winning all five to improve to 16-4 on the year and 6-3 in the league. The first four victories came by an average of almost 34 points per game, including a 70-46 win over CCIW co-leader Wheaton and a 98-28 win over Millikin which set school and conference records for largest margin of victory. The home stand was capped off with a thrilling 80-78 overtime win over Illinois Wesleyan.
Augustana dropped the rematch with eventual CCIW champion North Central 43-41 in Naperville, Illinois, and then sandwiched victories at North Park and Carthage around a Senior Night win over Elmhurst. A three-pointer by senior Troy Rorer (Bettendorf HS, Bettendorf, Iowa) at the regulation buzzer tied the Carthage contest at 66 and got the Vikings to overtime, where they pulled out a 74-73 win.
The team closed the regular season by dropping a 74-44 decision at Wheaton. With a 19-6 record, Augustana returned to Naperville for the CCIW tournament. The only team to appear in the event in all seven years of its existence, the Vikings went in as the number four seed and facing a third meeting with the host Cardinals. Despite leading late, they couldn't hold on for the win, falling 63-56 to end their season.
Rorer and Voiles were both named to the 2012 All-CCIW second team. Voiles was a repeat selection to the all-league second team.
Rorer excelled as Augustana's defensive stopper for the last three years and was second on the team in scoring (11.2 ppg), assists (66) and steals (25) this season. He closed his career ranking in the school's top 50 in games played (88), assists (188), steals (83), three pointers (48), free throw attempts (251), blocked shots (18), rebounds (331) and made free throws (147).
Voiles was the Vikings' leading scorer and rebounder this year with averages of 14.2 points and 7.2 boards per game. He was also the team's top free throw shooter (.830 on 117 of 141) and tied for the team led with 36 three-point field goals. He leaves Augustana with 881 points and 460 rebounds, ranking 36th and 25th respectively on the school's career lists. His 112 career three's are 10th-best in school history as are his 48 blocked shots. He ranks 16th in career three-point percentage (.385), free throws made (237) and free throws attempted (315) and is in the top 50 in games played (84), free throw percentage (.752) and assists (131) as well.
DeSimone averaged 7.2 points per game this season and led the team with 89 assists and 34 steals. He closes his career ranking fifth in school history in both games played (107) and assists (303). In addition he's sixth all-time in steals (124) and 11th in three-pointers (102). He also ranks in the school's top 50 in free throws made (168) and attempted (222), free throw percentage (.757) and three-point percentage (.331).
This year's senior class of Chris Anderson (West Carroll HS, Mt. Carroll, Ill.) , DeSimone, Griffin Dwyer (Hersey HS, Arlington Heights, Ill.) , Rorer and Voiles helped lead the program to an 80-29 (.734) record over the last four years, including 38-18 (.679) in conference play, with CCIW regular season and tournament titles and the second-most wins in school history (27) in 2011.
Other members of Giovanine's rotation this season included junior frontcourt players Brandon Kunz (Lake Zurich HS, Lake Zurich, Ill.), Kameron Norton (Downers Grove North HS, Downers Grove, Ill.) and George Dexter (Bettendorf HS, Bettendorf, Iowa) , sophomore center Kevin Schlitter (Maine South HS, Park Ridge, Ill.) and freshmen guards Danielius Jurgutis (Downers Grove South HS, Darien, Ill.) and Mark Roth (Washington HS, Metamora, Ill.) .
Kunz averaged 6.8 points and 6.0 rebounds per game. He was the team's second leading rebounder despite starting just six of 26 contests. He shot .543 from the field and led the team with 18 blocked shots. The combination of Norton and Dexter at power forward combined for 8.7 points and 8.7 rebounds per game. Roth tied Voiles for the team lead with 36 three-pointers and his .439 mark from beyond the arc was the team's best. Jurgutis averaged 4.5 points and 1.5 assists in 12.9 minutes per game backing up DeSimone at the point. He shot .464 from the field and .750 from the free throw line. Schlitter split time with Kunz at center, starting six games and averaging 5.0 points and 2.5 rebounds and converting .589 of his field goals attempts.
This year's team thrived on defense and rebounding. The Vikings held the opposition to just .397 shooting from the field and 58.9 points per game. Both of those marks are the best at Augustana since the 1972-73 team, led by twin towers John Laing and Bruce Hamming, held its opponents to .379 field goal shooting and 58.5 points a contest. That defensive effort also allowed the 2011-12 squad to post an average scoring margin of 13.0 points per game—the program's best since coach Jim Borcherding's national runner up squad of 1980-81 defeated its foes by an average of 15.9 points per game.
The Vikings also outrebounded the opposition by an average of 11.2 per game this year. Not since the 1964-65 season, when Bob Karlblom and George Strombom led Augustana to a 13.7 per-game edge on the glass, has a Viking team been as dominant on the boards.
2011-12 CCIW MEN'S BA SKE TBALL STANDINGS
| | | | | | | | |
| --- | --- | --- | --- | --- | --- | --- | --- |
| TEAM | CCIW | W-L | PCT | Overall | W-L | PCT | |
| North Central | | 12-2 | .867 | | 22-8 | .733 | |
| Wheaton | | 11-3 | .786 | | 23-7 | .767 | |
| Illinois Wesleyan | | 10-4 | .714 | | 23-8 | .741 | |
| AUGUSTANA | | 9-5 | .643 | | 19-7 | .731 | |
| Carthage | | 6-8 | .429 | | 12-13 | .480 | |
| Elmhurst | | 6-8 | .429 | | 12-13 | .480 | |
| North Park | | 2-12 | .143 | | 6-19 | .240 | |
| Millikin | | 0-14 | .000 | | 1-24 | .040 | |
2012 CCIW TOURNAMENT
Merner Fieldhouse—North Central College—Naperville, Illinois
Friday, February 24
(2) Wheaton 69, (3) Illinois Wesleyan 56
(1) North Central 63, (4) AUGUSTANA 56
Saturday, February 25
(1) North Central 75, (2) Wheaton 58
2011-12 AUGUSTANA SUPERLATIVES
CCIW TOURNAMENT: Only school to qualify for every CCIW tournament.
D3HOOPS.COM NATIONAL RANKING: Ranked 2nd in preseason poll...Ranked 1st in week one poll.
CCIW ALL-CONFERENCE: Troy Rorer (2nd Team)...Bryant Voiles (2nd Team).
2011-12 The Sporting News Preseason All-America: Bryant Voiles (Honorable mention).
CCIW TEAM STATISTICAL LEADERS: Augustana led the CCIW in rebounds (39.6 rpg)...rebound margin (+10.2 per game)...offensive rebounds (14.43 per game)...defensive rebounds (25.21 per game).
2011-12 MEN'S BASKETBALL AWARDS
Most Valuable Player: Troy Rorer & Bryant Voiles
Best Defender: Troy Rorer
Leading Rebounder: Bryant Voiles
2011-12 Captains: Bryant Voiles, Brian DeSimone & Troy Rorer
2012-13 Captains-Elect:
Junior Varsity MVP: Kevin Schlitter