Observer wins 14 awards, ties school record
March  19, 2012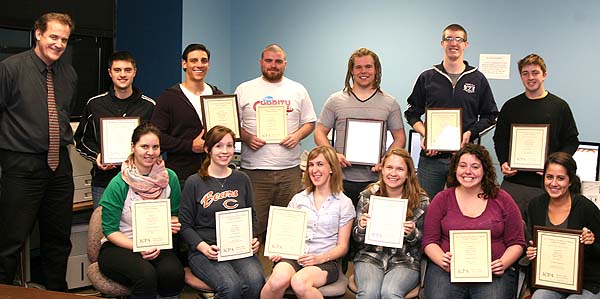 Members of the Observer staff show off the 14 awards the newspaper won in the annual Illinois College Press Association. Back row, from left, advisor James Dyer, Ryan Lulofs, Anthony Concialdi, Robert Connelly, James Stratton, Jacob Misener and Jack Cullen; front row from left, Faye Marek, Lauren Graziano, Rachel Warmke, Alicia Oken, Hannah Johnson and Sophia Ali.
The Augustana Observer won 14 awards overall at the annual Illinois College Press Association (ICPA) conference held in Chicago during spring break. The student-run publication received third place in general excellence and set a school record by receiving six first-place journalism awards.
The Observer competed in two divisions: the Open Division, which includes all colleges and universities in the state, and the Non-Dailies Division for colleges with a student population less than 4,000.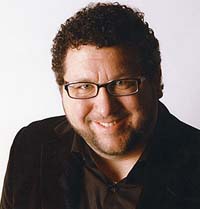 Mark Konkol
4th Estate Awards
Banquet May 6
The ICPA Awards will be handed out to students during the college's 4th Estate Awards Banquet at 12:30 p.m. on Sunday, May 6, in the Loft of the College Center.
Administrators, faculty, staff, students and their parents will celebrate the journalism successes of all students during the last year. The keynote speaker will be Mark Konkol, Pulitzer Prize-winning investigative reporter at the Chicago Sun Times.
Although the Observer broke a school record by receiving six first-place awards and taking third place for general excellence for the first time since 1941, junior Editor and Chief Jacob Misener and the rest of the Observer staff hope to build off of this year and have a better showing at the conference next year.
"When I took over and got this job at the end of my freshman year, we wanted to win first place for the general excellence award, so hopefully next year we can ," said Misener.
Nine Augustana students received individual awards at the conference.
• Tommy Grevlos, a 2011 graduate from Naperville, IL,, won four prizes, garnering two first-place awards, one in the General News Photo category and one in the News Story category. In addition, Grevlos received third place in the In-depth Reporting category and second place in the Multimedia Reporting category. The latter accolade was judged in the more competitive Open Division.
• Eric Chalus from Rochelle, Ill., who graduated in the fall, won two awards: second place in the "Front Page Layout" category and second place in the "Feature Story" category for his narrative piece on a student with a passion for brewing beer.
•Sophomore James Stratton from Sherrard, Ill., placed in Best Sports Column stemming from his piece on the turf in Ericson Field needing to be replaced.
• Senior Sophie Ali from Cary, Ill., received first place in the Sports Feature category for her gripping story on a student's passion for mixed martial arts fighting.
• Senior Anthony Concialdi of Barrington, Ill., earned the top spot for best Sports News Story.
• Senior Rachel Warmke from Janesville, Wis., editor of the feature section of the Observer received honorable mention in the Feature Page Design category.
In addition to writing and layout design awards, two students received awards for their artistic and graphic design skills, which faculty members said reflects a growing collaborative effort between two new Augustana programs: Graphic Arts and the Multimedia Journalism and Mass Communication (MJMC) program.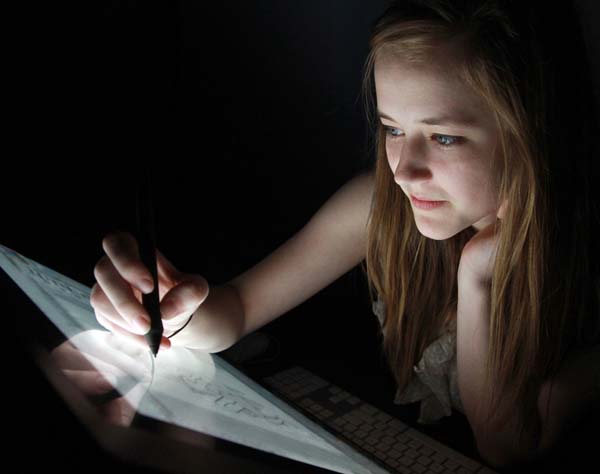 Elena Scherer, a junior from Yorkville, Ill., designs a graphic for the Observer. She won two awards for her design work.
"The student newspaper is an ideal place for journalism and graphic arts students to hone their skills," said Jim Dyer, co-director of the MJMC program and advisor to the Observer. "These awards reflect the amazing work that the students have shown in everything from writing, photography and multimedia to layout and graphic design."
Art and graphic design Professor Kelvin Mason agreed. "I think it's a really great collaborative opportunity between different people who have different things in mind about what they want to happen in a publication," said Mason. "I think its great to see things from different angles, especially with this incredible collaborative fusion of graphic design and MJMC."
• Juniors Cody Heche, from Cary, Ill., and Elena Scherer from Yorkville, Ill., both received awards for their artistic skills in the Open Division. Heche received third place in the Editorial Cartoon category while Scherer won first place for her graphic design work in the Advertisements Less than Full Page category. Scherer also received second place in the Front Page Layout category.
Scherer, who is studying graphic design and MJMC, said she enjoys using her design skills to convey information to readers in news articles.
"I think newspapers are going in the direction of having really good design because it helps get the information across in a more effective manner," said Scherer. "If I can convey what the story is about in a graphic without twisting it in any different direction or showing bias, that's a successful graphic."