March 18, 2012
2011-12 Season - Slow start dooms Vikings at Trine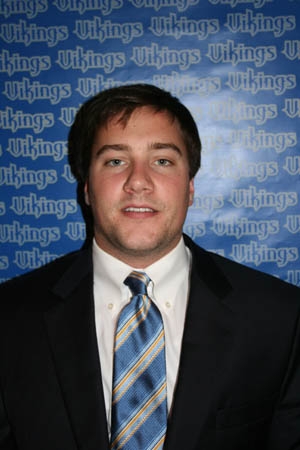 Junior co-captain Zach McGinnis caused five turnovers and collected eight ground balls Sunday, but the Vikings fell 14-6 at Trine.
ANGOLA, Ind.-Augustana fell behind 7-1 at the end of the first quarter and was never able to recover, dropping a 14-6 decision at Trine Sunday. The loss drops the Vikings to 5-3, while the Thunder evens its record at 2-2.
Trine's Blaine Stahley scored three times in the opening period including once with a man advantage. The hosts were more efficient when a man up, converting 3-of-4 opportunities in the game, while Augustana 0-for-6. Freshman Tim Fennelly (Littleton HS, Centennial, Colo.) scored the Vikings' lone goal of the first quarter.
Andy Lauer's second goal of the contest made it 8-1 Trine at the 11:30 mark of the second quarter. Consecutive goals by Mike McAleer (Downers Grove South HS, Bolingbrook, Ill.) and Jesse Nagelberg (St. Charles East HS, St. Charles, Ill.) cut the deficit to five, but Dan LaFond found the net for the Thunder with 4:11 left in the half and the Vikings trailed 9-3 at intermission. Fennelly picked up an assist on Nagelberg's goal.
Fennelly scored just nine seconds into the third quarter and Nagelberg added a goal later in the period, but the Thunder answered each time, getting goals from Lauer and LaFond, respectively. Trine put the game out of reach by scoring three times in the first 10 minutes of the fourth quarter to extend its lead to 14-5. Nagelberg's 21st goal of the season with 2:06 left wrapped up the scoring.
The Thunder outshot Augustana 46-27, collected 37 ground balls to 23 for the visitors and won 16 of 22 faceoffs. The Vikings turned it over 24 times to 23 for Trine. Alex Gregg recorded nine saves in goal for the hosts, while Augustana's Cody Burgdorff (Peak to Peak HS, Lafayette, Colo.) was credited with 10. Junior defender Zach McGinnis (New Trier HS, Kenilworth, Ill.) had a nice game, causing five turnovers and collecting eight ground balls.
The Vikings return to Thorson-Lucken Field on Saturday, March 24, hosting Milwaukee School of Engineering at 4:00 p.m.