March 17, 2012
2011-12 Season - Bardo picks up lone win in loss at Coe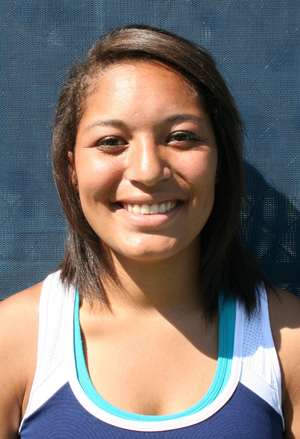 Sophomore Mariah Bardo moved her individual record to 14-8 with a victory at number six singles on Saturday, March 17 in a dual match against Cole.
CEDAR RAPIDS, Iowa - Sophomore Mariah Bardo (Sterling HS, Sterling, Ill.) secured the lone victory for Augustana in an 8-1 loss against Iowa Conference champion Coe on Saturday, March 17 in Cedar Rapids, Iowa. With the loss, the Vikings fell to 10-9 on the season.
Bardo upped her record to 14-8 as she defeated Elizabeth Hoffman 7-6; 2-6 and 10-8 at number six singles.
Sophomore Katie Scharnagle (Wheaton St. Francis HS, Lisle, Ill.) lost a tough three-set match at number five. She fell to Jordan Ferree 6-1; 1-6; 3-6.
Augustana's next match will be Sunday, March 25 against St. Ambrose at the Quad City Tennis Center in Moline, Illinois. The Vikings defeated the Queen Bees 6-3 during the fall season.
Tennis Match Results
Augustana vs Coe College
Mar 17, 2012 at Coe College
Coe College 8, Augustana 1
Singles competition
1. Schupbach, Michelle (COE) def. Sawyer, Kim (AUGIE) 6-2, 6-2
2. Lucero, Tai (COE) def. Reece, Brittany (AUGIE) 6-1, 6-0
3. Pedersen, Jackie (COE) def. Panko, Krista (AUGIE) 6-1, 6-0
4. Ohlman, Sara (COE) def. Wethington, Meghan (AUGIE) 6-3, 6-4
5. Ferree, Jordan (COE) def. Scharnagle, Katie (AUGIE) 1-6, 6-1, 6-3
6. Bardo, Mariah (AUGIE) def. Hoffmann, Elizabeth (COE) 7-6, 2-6, 10-8
Doubles competition
1. Schupbach, Michelle/Lucero, Tai (COE) def. Sawyer, Kim/Wethington, Meghan (AUGIE) 8-1
2. Pedersen, Jackie/Ohlman, Sara (COE) def. Reece, Brittany/Panko, Krista (AUGIE) 8-4
3. Ferree, Jordan/Hoffmann, Elizabeth (COE) def. Margenthaler, Caitee/Kaczmarek, Emily (AUGIE) 8-1
Match Notes:
Augustana 10-9