March 17, 2012
2011-12 Season - Augustana falls 13-10 at Carthage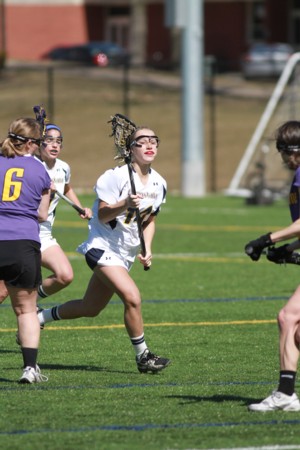 Freshman Hannah Dickman's six goals weren't enough to keep the Vikings from falling 13-10 at Carthage Saturday.
KENOSHA, Wis.-Despite six Hannah Dickman (Stillwater Area HS, Stillwater, Minn.) goals, Augustana fell on the road Saturday, dropping a 13-10 decision at Carthage. The Lady Reds (3-1) held Hilary Kargl (Sacred Heart Academy, Louisville, Ky.), the nation's leading scorer, to just a single goal. Augustana is now 6-3 on the year.
Dickman's first two goals of the day came in the first two minutes and gave the visitors an early 2-0 lead. After Carthage tied it, Dickman scored again at the 24:16 mark of the first half to regain the lead. The hosts then scored four straight goals, including a pair from Hannah Sopeth, to go up 6-3. The teams traded goals over the final 17:16 of the half, with the Vikings getting a goal from Dickman on an assist from Kargl and another from Christina Letmanski (Glenbard West HS, Wheaton). Carthage led at the break 8-5.
The Lady Reds scored twice to take a 10-5 lead just over a minute into the second half and maintained a lead for the rest of the game. Goals from Kargl and Kate Zisser (Kirkwood HS, St. Louis, Mo.) got the Vikings as close as 10-7, but Lauren Chapman scored with a player advantage and Sopeth found the net for the third time in the game to push the Carthage lead back to 12-7.
Dickman scored twice more and Letmanksi once in the final 6:13, but the final of 13-10 would be as close as Augustana would get.
Sarah Osier (Naperville Central HS, Naperville, Ill.) was credited with 13 saves, but suffered her third loss of the season against six wins.
Carthage had narrow advantages in shots (30-26), ground balls (19-18) and turnovers (10-11). The Lady Reds controlled 16 draws to nine for the Vikings.
Augustana is now idle for a week before hosting Concordia on Saturday, March 24 at 1:00 p.m.