March 17, 2012
2011-12 Season - Vikings fall to Albion in Overtime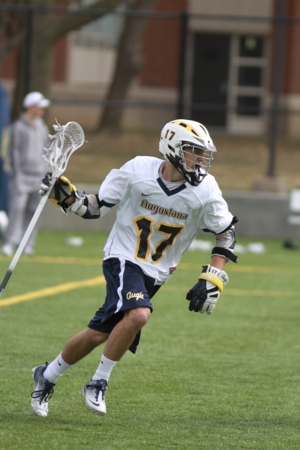 Freshman Tim Fennelly scored three goals Saturday, but the Vikings came up just short, falling 7-6 in overtime at Albion.
ALBION, Mich.-Albion's Mitch Loney scored his third goal of the season 2:44 into overtime Saturday to give the Britons a 7-6 win over visiting Augustana. Albion improved to 4-2 on the season, while the Vikings, who got three goals from freshman Tim Fennelly (Littleton HS, Centennial, Colo.), dropped to 5-2.
The teams went to halftime even at 2-2 after trading goals. Jesse Nagelberg's (St. Charles East HS, St. Charles, Ill.) 17th goal of the season gave Augustana a 1-0 lead at the 12:35 mark of the first quarter. Albion's Tim Urso tied the game with his 10th goal of the season 10 minutes later. Fennelly scored with 35 seconds left in the period, but Loney answered with a goal a minute into the second quarter to tie it back up.
The scoring pace picked up in the third period. After a pair of Briton goals early in the quarter put the hosts up, Fennelly and Nagelberg responded with goals to tie it at 4-4. Stephen Treppa scored back-to-back goals for Albion and the Vikings again found themselves two scores down. Fennelly scored for the third time in the game and the ninth time this season with 31 seconds left to cut the deficit to 6-5.
Augustana freshman Vincent Giglierano (The Calvert School, Aquasco, Md.) scored his sixth goal of the season to tie the game a minute into the fourth quarter. Augustana had four man-up opportunities in the final seven and a half minutes, but were unable to convert and finished the game 0-for-8 in such situations. Giglierano's goal would be the last before Loney's overtime game-winner.
The hosts got the better of it statistically, with a 35-21 edge in shots and a 30-19 advantage in ground balls. Albion won 14 of 17 faceoffs and committed 18 turnovers to 21 for the Vikings.
Freshman goalkeeper Cody Burgdorff (Peak to Peak HS, Lafayette, Colo.), who had been ranked second in the nation in goals against average and third in save percentage, recorded 14 saves in the game but suffered the loss to fall to 5-2 on the year. Ian Monkman recorded seven saves for the Britons.
Augustana will try and bounce back on Sunday, March 18, when they take on Trine in Angola, Indiana. Game time is scheduled for 1:00 p.m.