March 17, 2012
2011-12 Season - Vikings split singles in loss at Coe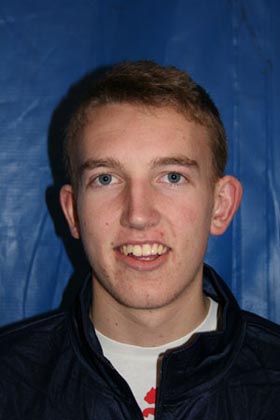 Freshman Lawrence Palmer won a tight three set match at number two singles over Sean Stokstad of Coe in Augustana's 6-3 loss to the Kohawks.
CEDAR RAPIDS, Iowa - A 3-0 deficit in doubles was too big an obstacle as Augustana dropped a 6-3 decision to Coe in non-conference men's tennis action on Saturday, March 17 in Cedar Rapids, Iowa. The Vikings held their own in singles, splitting the six matches but the three losses in doubles wound up being the difference.
All three of the Augustana wins were three set affairs. Freshman Lawrence Palmer (Schiller International, El Prat de Llobregat, Spain) won a hard-fought 6-2; 1-6; 6-4 victory over Sean Stokstad at number two singles to improve to 4-7.
Sophomore Colin Arnold (Sterling HS, Sterling, Ill.) beat Jonathan Roger at number five by a score of 7-6; 3-6; 10-8 to move to 10-5 on the year.
Sophomore Kevin Bayles (Homewood-Flossmoor HS, Flossmoor, Ill.) beat Daken Starkenburg 6-2; 6-7; 10-6 at number six and he is now 10-3.
Augustana is now 7-5 overall and will play Wisconsin-LaCrosse on Saturday, March 24 in Madison, Wisconsin before coming home on Sunday, March 25 to face St. Ambrose at 9:00 a.m.
Tennis Match Results
Augustana vs Coe College
Mar 17, 2012 at Cedar Rapids, Iowa
Coe College 6, Augustana 3
Singles competition
1. Noah Sprinkel (COEM) def. DeSimone, Adam (AUGIE) 6-2, 6-2
2. Palmer, Lawrence (AUGIE) def. Sean Stokstad (COEM) 6-2, 1-6, 6-4
3. Jeff Damisch (COEM) def. Wall, Andy (AUGIE) 6-1, 6-4
4. Curtis Newman (COEM) def. Cullen, Jack (AUGIE) 7-6, 6-2
5. Arnold, Colin (AUGIE) def. Jonathan Roger (COEM) 7-6, 3-6, 10-8
6. Bayles, Kevin (AUGIE) def. Daken Starkenburg (COEM) 6-2, 6-7, 10-6
Doubles competition
1. #15 Noah Sprinkel/Curtis Newman (COEM) def. DeSimone, Adam/Wall, Andy (AUGIE) 8-3
2. Jeff Damisch/Michael Woolf (COEM) def. Palmer, Lawrence/Palmer, William (AUGIE) 8-3
3. Michael Janssen/Jonathan Roger (COEM) def. Cullen, Jack/Arnold, Colin (AUGIE) 8-4