Inside Higher Ed reports shared governance focus
Reporter watches as Augustana faculty, board of trustees meet to talk about the future together
March  16, 2012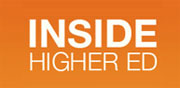 See Kevin Kiley's story about Augustana:
---
On a cold and snowy weekend in January, more than 40 faculty members and administrators joined members of the Augustana College Board of Trustees in downtown Chicago to make decisions that will shape the strategic direction of the college for decades to come.
Inside Higher Ed reporter Kevin Kiley joined the retreat to observe and report on breakout sessions led by faculty and administrators that engaged trustees in discussions focused on critical issues facing the college, including:
• Advancing the value of the Augustana experience
• Addressing current and future economic realities in higher education
• Benchmarking recent initiatives in the higher education marketplace
• Establishing meaningful learning outcomes
A commitment to shared governance is an essential element in the college's new strategic plan, Authentically Augustana: Affirm our Mission, Assure our Future and Assess our Results.
According to Augustana President Steve Bahls, the meeting constituted a remarkable and positive change in the direction of the college.
"Our trustees made decisions that will shape the history of Augustana for decades to come, but the meeting itself was historic in its own way," he said. "More faculty leaders (31) than trustees (29) took part in this positive move towards shared governance. This made for a large meeting and a robust exchange of ideas."
Dr. Allen Bertsche, director of international and off-campus programs and a professor of Spanish, saw value in the trustee/faculty breakout sessions.
"One of the great benefits of these sessions was the ability for cross-conversation," he said. "This was an opportunity for board members to sound ideas off of faculty, and for faculty to elaborate on their goals and motivations. Both parties challenged assumptions and presumed positions."
Dr. Christopher Whitt, assistant professor of political science, viewed the meeting as a first step in establishing a more powerful trustee/faculty partnership.
"This was surely a novel approach to getting these constituencies of the college to come together to work toward common goals," he said. "This experience provided me with a great opportunity to see additional perspectives on the governing of a college."
Other highlights:
Board approves Center for Student Life
This project is a fusion of a new 30,000-square-foot hub for dining and student activities with the Thomas Tredway Library. The board voted approved the $20 million building and finance plan for the new center and the enhancements to existing spaces in the library building.
4-1-4 curricular realignment overview
Numerous college committees, academic departments and programs, and nearly every office on campus are involved in studying and modeling a semester calendar with a 35-course graduation requirement and a standard faculty load of six courses. This would be a significant change to the current trimester system of three 10-week terms, and would involve realignment of everything from course offerings to international study programming.
Sam Schlouch
Senior Communication Director
(309) 794-7833
samschlouch@augustana.edu