March 2012
Web Guild pays it forward
Just before the turn of the century, a dedicated group of Augustana student computer enthusiasts was hard at work on web design. The year was 1999, the place was Sorensen Hall, and the group became the Augustana Web Guild. More recently, the group has become a central component of the Entrepreneurial Center in the Community Engagement Center.
According to the group's longtime leader, Doug Tschopp, they call it the EDGE Center. "EDGE is short for 'Entrepreneurial Development through Guided Experiences,'" said Doug. "That's what we do, and 'edge' is easier for people to say than 'entrepreneurial.'"
Helping people—primarily local organizations—with marketing and media projects is what they do at the EDGE Center, and for the web guild that means websites. A recent story on KWQC TV6 drew the public's attention to their work.
"We have about 100 active clients at a time," Doug reported. "About 80 percent of the clients are not-for-profit, with the rest being small to medium-size businesses." Some examples are Bethany for Children and Families, High Arctic Institute, Project Now, Republic, Midcoast Fine Arts and Colonel Davenport House, their oldest client.
Clients receive a value added with their web design. Their fees support the web guild's endowed Entrepreneurial Leadership Scholarship for Augustana students interested in entrepreneurship, professional development and experiential learning.
At the web guild's regular meeting last Saturday, President Steve Bahls presented Doug and web guild members Stacy Bollinger, Ben Fischer '13, Jasen Hengst '14, Joe Santucci '12 and Andy Shearouse '14 with a plaque to recognize the group's work and honor its standing as a major donor for the college. The web guild has raised nearly $90,000 for the Entrepreneurial Leadership Scholarship since January 2009.
President Bahls said, "Thanks to its mission, the Augustana Web Guild has a profound effect on the Quad Cities. Its work on the marketing plans and community outreach of so many businesses and not-for-profits has been crucial in helping many organizations not only remain viable, but indeed thrive." He concluded, "The fact that these students invest their hard-earned profits into an endowed scholarship at the college shows they truly understand the value and importance of an Augustana education."
Spring brings Jewish events and new fellowship
The Jewish new year takes place in the fall, and that is the time of year when Jews traditionally celebrate new beginnings. But librarian Margi Rogal finds she is doing just that as she coordinates several Jewish-related programs on campus this spring, including a new fellowship in Jewish culture for students.
"I'm excited about these projects illuminating Jewish history, religion and culture," Margi said. "Judaism has been such an important part of world history; it's great to see Augustana offer opportunities for students, faculty, staff and the wider community to learn about this sometimes overlooked or misunderstood aspect of our common heritage."
Although the Geifman and Stone lectures have been around for many years, this year they occur on successive evenings—April 23 and 24—offering audiences an opportunity to compare and contrast two very different events in Jewish history: the formation of Biblical narrative and the Holocaust.
"What can we learn about two such vastly different eras and events?," she asked. "Listening to a Holocaust survivor, we witness what ghastly suffering can be perpetrated by one group on another, and listening to an expert Torah scholar, we learn how we tell stories to illuminate the human condition. We need to understand both in order to create a better world."
Students will have two opportunities this spring to learn about and articulate Jewish history, religion and culture. The annual Geifman Prize in Holocaust Studies rewards academic or creative work on that subject, and the new Geifman Fellowship in Jewish Culture offers stipends to students who develop and present lesson plans in area schools on such topics as Jewish history, drama, art, music, literature and theatre.
Margi loves these two student-oriented programs "because they invite students to engage with Jewish culture in various ways, both in and out of the classroom," she said. "The fellowship allows students to explore a topic and to teach; what better way to encourage learning about Jewish culture?"
Field Notes
Kailey Maras '12 wrote Field Notes during the Augustana Choir's recently completed tour to Germany and Austria. At the start of the tour, the choir took part in an international music festival in Detmold, Germany, to celebrate the 50th anniversary of composer Benjamin Britten's masterpiece, War Requiem.
In Detmold, where we stayed four nights, we worked, rehearsed and performed with college students from the area who were able to show us around the city. Because we were with them so much in those few days, we really were able to get to know them. Conversations sparked about music, movies, interests, study majors, families and more. It was so fun to realize how similar we all are!
Rehearsals in Detmold were long, and our director, along with some of the choir members, did not speak any English. This made it pretty difficult to get things done, at first. After some time, and many translations, we were able to pull it all together and give two strong performances.
Performing Britten's War Requiem in Germany is an experience I will never forget. So many different members of the choir and orchestra, so many different cultures, interests, backgrounds and languages were able to mold together and share one passion. Although many of us in the Augustana Choir were excited to begin performing our individual tour repertoire in beautiful churches throughout Germany and Austria, the experience of collaborating across the world to create music was incredible.
Since Detmold, we have traveled and performed in Leipzig and Erfurt, Germany, and are headed next to Rothenburg, Salzburg, Austria and finally Munich. One of my most memorable experiences so far happened today when a few of us were touring around Erfurt, and visited St. Mary's Cathedral. As we walked up the 80+ stairs into the church, we really didn't know what to expect. Words can't describe the overwhelming beauty of this cathedral. Stained glass windows covered the entire walls up to the high ceiling, and the smallest detail was found at every glance.
The best part for me, however, was the timing. As I walked to the front of the church, a group of 20 or so children were lining up for their teacher. Soon the organ began to play, and the children started singing Kyrie. As a music education major who just finished my student teaching at the elementary level the day before our choir left for Germany, this couldn't have meant more. It was so incredible to experience, again, the same passion and excitement for music among students across the world.
To cap off our visit to the cathedral, a group of about 20 of us circled and sang a German translation of the hymn "Beautiful Savior," followed by the choir's traditional closing song, "Children of the Heavenly Father." Here is a video of this piece performed later, in Wittenberg's Castle Church.
New Face on Campus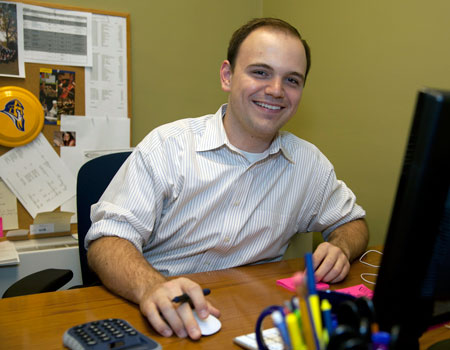 Sam Schlouch, Manager, Arts Events and Communication
B.A. Augustana College Class of 2010, business administration–management and accounting
Many of you may be surprised to learn that he was ever really gone. While he was a student here, Sam held leadership positions in nearly a dozen co-curricular activities, including Campus Ministries, the President's Student Advisory Council, SGA, Student United Way and the Augustana Choir. Currently he serves on the college's alumni association's board of directors and is very active in the Evangelical Lutheran Church in America.
Sam rejoins the Augustana community after nearly two years of service as the community relations and development coordinator with the Mississippi Valley Regional Blood Center. In this role, he launched the center's social media presence, served as a spokesman for the organization and coordinated several fundraising activities.
He thinks it's wonderful to be back at Augustana. "It's been great to see so many familiar faces, and reconnect with faculty and staff as a colleague," he said.
"I also can't complain about being on the job for a week and then traveling to Germany and Austria with the Augustana Choir," he admitted. "I wonder where I'll go next week?"
As the arts events and communication manager, Sam's primary responsibilities include managing events, music ensemble tours and serving as a tireless champion for the arts at Augustana.
In the Works
Director of Human Resources Laura Ford authors a perennial series of information and wisdom pertaining to being an employee of Augustana College.
While most of our campus-wide communication about benefits happens at the beginning of the school year, this year the benefits committee got a head start on decision-making. This week the committee wrapped up campus discussions to gather thoughts and opinions on a number of issues related to our benefits package. If you were unable to attend one of the meetings, you can download the presentation here.
Topics ranged from options for leveling out the cost discrepancy for single vs. family coverage, whether and how we might provide incentives for healthy lifestyle choices, interest in additional voluntary benefits, and more.
The general response was there are no easy answers. We had a great dialogue on what a wellness program might look like, and interesting discussion on the fairness aspect of tiered pricing—where the cost of insurance is commensurate with your overall earnings—with valid points made on both sides.
If you have more questions or input, please email or call me at 7352. The benefits committee will carefully consider all input and use it for final decisions. While we do not have an absolute timeframe for implementation, we will keep you informed through campus communications.
Seen & Heard
Student at the Salon: "Are straw polls reliable?" Dr. Klien: "Hell, no."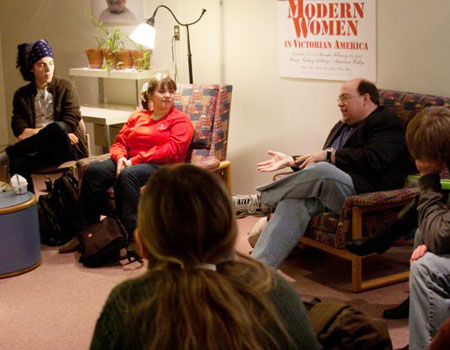 The Salon is a new student group that promotes informal intellectual discussion. Guest speaker Steve Klien of the communication studies department discussed politics and the Republican primaries at the group's first meeting of the term on March 8. The next Salon met today in the Tredway Library to discuss the topic of neurophilosophy. Doug Parvin of the philosophy department was guest speaker. All are invited to the regular meetings of the Salon. Contact Laura Hartman at 7345 for information.
Acknowledge is published by the Office of Communication and Marketing at Augustana College in Rock Island, Illinois. Contact Beth Roberts, editor. Photos in this issue were contributed by Marla Alvarado Neuerburg and Sam Schlouch of communication and marketing, Lauranne Schone '15, and Drew Barnes '14 and Emily Cudworth '13 of the Augustana Photo Bureau.