March 13, 2012
2011-12 Season - Kargl leads NCAA Division III in goals scored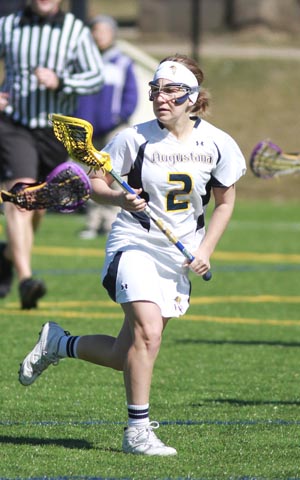 Freshman Hilary Kargl leads NCAA Division III in total goals scored this season with 46. She ranks second in total points with 52 and is second in goals-per-game with an average of 6.57.
ROCK ISLAND, Ill. - The Augustana women's lacrosse team has had a great start to its first season, with the offense driving their 5-2 record. In the first NCAA Division III national statistical rankings, the Vikings are near the top of the nation in many offensive categories. As a team, the Vikings rank first in points, eighth in scoring offense, 21st in draw controls and 28th in caused turnovers. There are many individuals who are among the national leaders as well.
Through seven games, the Vikings have accumulated 177 points, good for the most in the nation at this point. The Viking's scoring offense, which is the average amount of goals per game, is ranked eighth with 18.43. Medaille leads with 22.0 goals per game. Coach Sara Tisdale's team is 21st with 16.0 draw controls per game and 28th with 11.71 caused turnovers per game. Marywood leads with 19.5 draw controls per game, and Mt. St. Vincent is tops in the nation with 30.0 caused turnovers per game.
Individually, the Vikings have been piling up the statistics. Freshman Hilary Kargl (Sacred Heart Academy, Louisville, Ky.) has scored the most goals so far with 46. She is second in the nation with 52 total points, just behind Kristan Dziurzynski of Berry, who has 54 points. Kargl is averaging 6.57 goals per game, behind only Meaghan Fileti of Smith, Taylor Hughes of St. John Fisher and Allison Terry of Notre Dame (MD), who are all averaging 7.0 goals per game. Kargl's 7.43 points per game ranks her 11th, while Kendyl Clarkson of Buffalo State leads with 9.5 points per game.
However, Kargl is not the only Viking putting up big numbers. Freshman Christina Letmanski (Glenbard West HS, Wheaton, Ill.) ranks 23rd in the nation with 24 total points, and tied for 22nd with 8 assists. She is tied with freshman teammate Hannah Dickman (Stillwater Area HS, Stillwater, Minn.), who also has 8 assists. Freshman Allie Roehrenbeck (Columbus Academy, Gahanna, Ohio) is another key contributor, having accumulated 17 goals and 22 total points, good for 29th and 28th best in the nation, respectively.
Freshman Sarah Osier (Naperville Central HS, Naperville, Ill.) and the defense are also having success, with Osier ranking ninth in the nation with 62 saves. Chelsea Totaro of LaGrange is first with 90 saves.
Augustana hosts Otterbein on Tuesday, March 13 at 6:00 p.m. and travels to Carthage on Saturday, March 17 for a 2:00 p.m. contest. Otterbein opened its season this past Saturday with a loss to Oberlin, while the Carthage is 2-1 through this weekend's games.