March 13, 2012
2011-12 Season - Burgdorff, defense rank second in NCAA statistics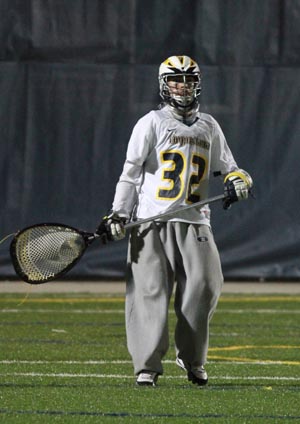 Freshman goalkeeper Cody Burgdorff currently ranks second in NCAA Division III in goals-against-average with a 2.93 percentage. He is also third in saves percentage at .732.
ROCK ISLAND, Ill. - The Augustana men's lacrosse team, in its first season, has already made quite an impact on the NCAA Division III national lacrosse rankings. The Viking's defense has been a highlight all season, and it is shown in the first set of rankings. The team's scoring defense is ranked second in the country and the team's scoring margin is ranked ninth in the country. Freshman goalie Cody Burgdorff (Peak to Peak HS, Lafayette, Colo.) has been outstanding, and he ranks second in the nation in goals-against average and third in save percentage.
The Vikings have relied on a stout defense to post a 5-1 record this season. Their second ranked scoring defense is allowing just 2.5 goals per game, only behind Middlebury, which leads the nation at 1.0 goals per game. Scoring defense is the average amount of goals given up per game. Scoring margin looks at the average difference between goals scored and goals allowed. The Vikings manage to outscore their opponents by an average of 8.83 goals per game, good for ninth best in Division III. Salisbury is leading the nation, averaging 12.57 more goals than their opponents.
Burgdorff has a spectacular goals-against average, allowing just 2.93 goals per game, good for second in the nation behind Nate Guadio of Middlebury. His save percentage is 0.732, meaning he stops more than 70% of the shots on goal. Guadio also leads in this category, with a save percentage of 0.875.
Head coach Kyle Hart's team will next be playing against Albion in Albion, Michigan on Saturday, March 17 at 12:00, and then on Sunday, March 18 at 1:00 p.m. against Trine in Angola, Indiana.