March 13, 2012
2011-12 Season - Skeens is finalist for Shooting Touch Sabbatical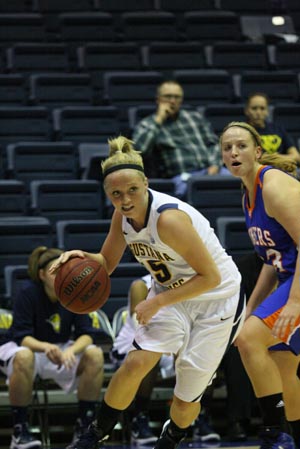 Senior Brianna Skeens is a finalist for the Shooting Touch Sabbatical program which will allow her to combine two passions in her life, basketball and mission work.
ROCK ISLAND, Ill. - Augustana senior Brianna Skeens (Vernon Hills HS, Libertyville, Ill.) admits that she has two passions in her life. One is competitive athletics, specifically basketball and the other is mission work. She has combined these two "loves" to become one of just five finalists for the Shooting Touch Sabbatical Program.
Shooting Touch, Inc. is Boston based company that uses the sport of basketball to positively impact the lives of children both on and off the court. With four prominent programs under the company's parent umbrella, Shooting Touch, Inc. is quickly becoming one of the most influential basketball brands around the world.
The company's nonprofit entity, The Shooting Touch Sabbatical Program, referred to as "The Basketball Peace Corps", grants graduating college seniors the opportunity to partake in a ten month international work program using the platform of basketball to help foster education and influence positive social change in third world communities.
Skeens stands to earn a $25,000.00 grant that will help fund her goal to take the game of basketball, and her innate desire to help others, to Africa in October of 2012.
"I love all sports but basketball is my passion," said Skeens who recently wrapped up a four-year career as a member of the Vikings varsity women's basketball team. "I did a mission trip to Belize back in 2008 after I graduated from high school and I got hooked on the idea of helping others. This opportunity to join the Shooting Touch Sabbatical is something that was too good to pass up."
During her trip to Belize she helped a family repair its house. Robert was the father and there was no mother around for Robert's three sons, Jeffery (11), Ludwing (9) and Wilson (7). Only two of the boys had shoes and the middle son, Ludwing, was barefoot. At the end of the week Skeens gave Ludwing her shoes and the youngster couldn't wait to show his brothers and all his friend his "new" shoes.
That struck a chord with Skeens and provided the impetus that led her to become a Shooting Touch Sabbatical finalist.
Throughout her four years at Augustana, Skeens has been a campus leader in helping Viking student-athletes get involved in the Quad City community. She is the president of the Augustana chapter of S.A.A.C. (Student Athlete Advisory Committee). Within S.A.A.C. there is a program called Athletes Giving Back that does volunteer work and fundraising for various causes in the community.
She plans on working with the other S.A.A.C. groups within the College Conference of Illinois & Wisconsin to collect athletes' old shoes, athletic clothing and equipment to take with her on the Shooting Touch Sabbatical. She plans on working through a group called "Hoops4Hope", an off-shoot for the STS, to make sure the shoes, clothing and equipment is safely transported to the proper location.
The Shooting Touch Sabbatical is a 10 month-long program and it will involve a change in location halfway through in March of 2013. The STS will end in July of 2013.
"This is a tremendous opportunity for me," said Skeens. "I have lots of ideas and I am looking forward to getting the chance to do this."
Skeens was a part-time starter in basketball for head coach Bobbi Endress' program and she was a regular in volleyball as well. As a senior she was named the Vikings' Most Valuable Player after she led the team in total kills with 331 and in kills-per-game with an average of 2.98. For good measure she had the second-highest block-per-game average of 0.68 with 76 total blocks (24 solo & 52 assists) in 111 games.
A sociology major, Skeens is the daughter of Bill and Sue Ellen Skeens of Libertyville, Illinois.