Hobson will speak in support of WVIK campaign
March  12, 2012
Jeremy Hobson, host of American Public Media's Marketplace Morning Report will reconnect with his Midwestern radio roots on Monday, March 26, to kick off WVIK's Capital Campaign during a luncheon at the Figge Art Museum in Davenport.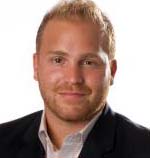 Jeremy Hobson
Doors open at 11:45 a.m. and the luncheon will begin at noon.
According to Jay Pearce, general manager of WVIK, "Hobson will speak about the economy and the role the economy is playing in this political year … and how Marketplace is covering it."
Pearce, an Illinois radio veteran, has known Hobson for 14 years. "Jeremy started working with WILL Radio at University of Illinois when he was about 9 years old. It was on a show called Treehouse Radio — a show by kids for kids," explained Pearce, who served at WILL before coming to WVIK in October 2011.
"While I was at WILL, Jeremy was a student at University of Illinois," continued Pearce. "Jeremy worked for me as local host of All Things Considered."
Hobson has flourished since his Treehouse Radio days. From University of Illinois, he went on to Boston University and started at Marketplace in 2007 as a reporter in the Washington D.C., bureau. He has covered Wall Street and its impact on ordinary Americans for Marketplace, based in the New York City bureau. Hobson started reporting from New York one week before Lehman Brothers collapsed in 2008, and he now lives in Los Angeles.
Hobson's bio indicates he has "frequently found himself in the right place at the right time." He was calling Florida precincts for National Public Radio (NPR) during the 2000 election. Hobson was working for Boston's WBUR during the Boston Catholic Church sex abuse scandal, and he was an intern for NPR's Guy Raz in Turkey at the start of the Iraq War.
Hobson has produced for NPR's All Things Considered, Day to Day and Wait Wait…Don't Tell Me! He also has worked as a host and reporter for public radio stations WCAI Cape Cod and WRNI Providence, as well as WILL Urbana.
Marketplace Morning Report airs locally on WVIK on weekdays at 6:50 a.m. As one of the top financial shows in the country, Marketplace enjoys a following of 5 million people per week. (WVIK also airs the Marketplace evening show on weekdays at 5:30 p.m.)
Sponsored by The Singh Group, Merrill Lynch-Quad Cities, WVIK's campaign kick-off luncheon will launch a $700,000 capital campaign for new equipment, new technology and improved infrastructure.
"This campaign's success will enable WVIK to continue to provide the informative and sophisticated quality programming our listeners rely upon, as well as better serve our community and expand our reach into new audiences," explained Jennifer Blohm, director of development.
Tickets for the luncheon are $20 and are available at wvik.org or (309) 794-7552. To guarantee tickets, please respond by Thursday, March 15. For information about the event or to register, contact Blohm at (309) 794-7552 or jenniferblohm@wvik.org.
About WVIK: WVIK, broadcasting at 90.3 FM in the Quad Cities and 95.9 in Dubuque, Iowa, is the source for public radio for the Quad Cities and surrounding 75-mile radius in Eastern Iowa and Western Illinois. WVIK's 30,000 weekly listeners trust the station's quality journalism, thoughtful array of music and insightful commentary. WVIK consistently ranked as the number one "most listened to" public radio station in the Quad Cities.
Sam Schlouch
Senior Communication Director
(309) 794-7833
samschlouch@augustana.edu